It didn't take long for Uggs -- the clunky, overpriced sheepskin boots -- to go from hot to not. Yet, years after the brand had its heyday, there are still shareholders convinced that its parent company, Deckers Outdoor Corp., could stage a comeback or at least draw attractive takeover offers, if it just had the right leadership.
An error has occurred
You have 1 free Businessweek article left.
Register for more.
Already a subscriber? Link your Bloomberg Terminal account or your Businessweek subscription account to access all articles.
Deckers, which also owns the Teva brand of Velcro sandals and Hoka One One running and hiking shoes, is the latest target of an activist campaign by Marcato Capital Management, which bought about 6 percent of Deckers's stock. A letter this week from Marcato's managing partner Richard "Mick" McGuire instructed the $2.2 billion company to find a buyer or else the investor will come for Deckers's board the way he did at Buffalo Wild Wings Inc. (His proxy-fight win there this month helped push out a longtime CEO.) However, any further success Marcato has at Buffalo Wild Wings may not translate at Deckers.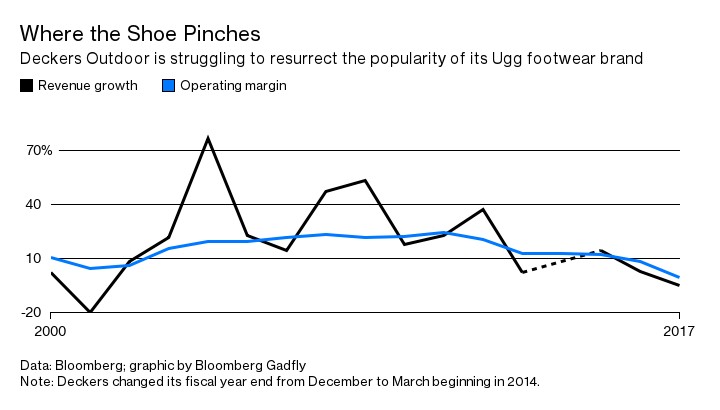 As restaurant chains go, "B-Dubs" is a fine brand and hedge funds have had success turning around similar businesses. But...
More