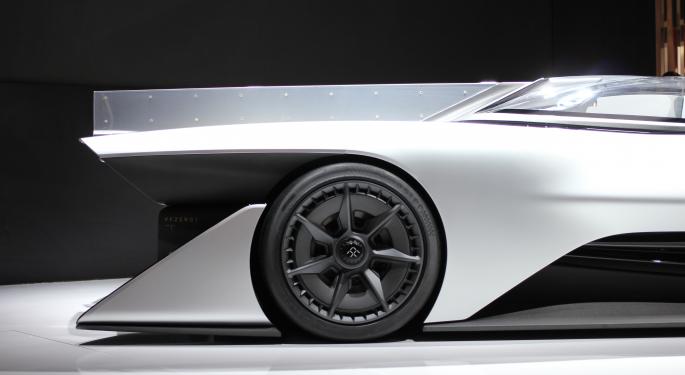 However, the startup financed by Chinese internet billionaire Jia Yueting erased much of the mystery surrounding the company when it claimed to manufacture the world's fastest electric car.
According to Bloomberg, Faraday Future unveiled its FF91 production model at a glitzy event in Las Vegas — and it is faster than Tesla's Model S P100D when set to "Ludicrous mode."
Faraday's car can accelerate from zero to 60 miles per hour in 2.39, a fraction faster than Tesla's P100D, which needs 2.5 seconds to hit 60 miles per hour.
But Faraday is billing itself as more than just a car company. It will offer a personalized experience for each passenger.
Nick Sampson, Faraday Future's research and development chief described his cars as a "new species" that hold the power to "truly change the game."
"We are not just building a vehicle but a globally shared internet mobility ecosystem," Jia also said. "I'm willing to devote everything to my dream. Even my life."
Make Your Reservations Now
Faraday Future didn't reveal the cost of its FF91 car, but consumers can reserve their car today for $5,000. Mass production will start this year, and the company has sufficient capital to pay its suppliers.
Image Credit: By Maurizio Pesce from Milan, Italia (Faraday Future FFZERO1 Concept Prototype) [CC BY 2.0], via Wikimedia Commons
© 2017 Benzinga.com. Benzinga does not provide investment advice. All rights reserved.