1) EUR/AUD has been on a bull run since July 2012 after rounding out a bottom, as shown in the weekly chart. 
2) The weekly stochastic is nearing 20, which would reflect oversold condition.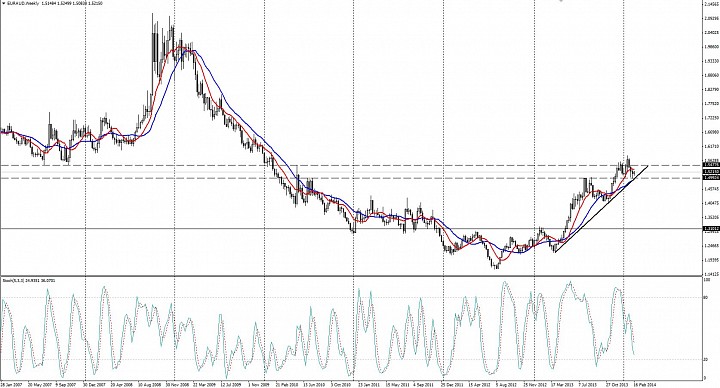 (EUR/AUD weekly chart: Click to enlarge)
3) EUR/AUD advanced to new highs in 2014 before falling to 1.4990, which is so far the 2014 low. 

4) So far, the pair's consolidation is supported at this 1.50 psychological clip and previous resistance. 

5) We do have respect the current short-term "trend" which is sideways, with possible near-term bearish bias from the perspective that price is trading at or below the 20 and 10 day SMA.. 
6) However, while price trades above a projected support and the 1.50 level, the bias remains bullish. A break above 1.5350 can open up another bullish swing.
Idea:
If price consolidates further and nears 1.50 again, I would like to go long. If price pops above 1.5350, I would like to buy on an intra-day dip. 
Below 1.4990, we might have to respect the continuation of consolidation, and possibly some further short-term bearish retracement. But I would still have a bullish bias in the medium, long-term.
What do you think?