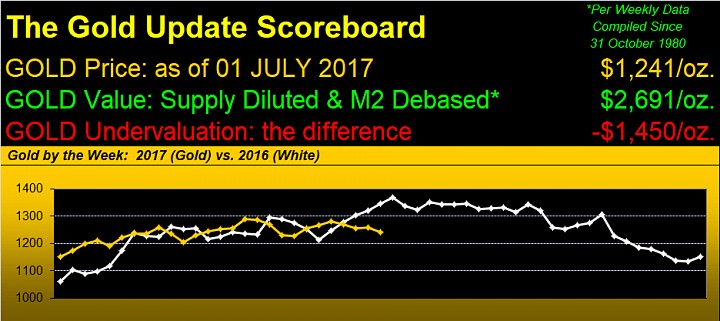 Here in wee Monaco amongst its most famous district Monte-Carlo lies the "Carré d'Or" or "Golden Square". The name is perfectly analogous to the ongoing, spoiled attitudinal state of late for Gold: 'tis acting like a "square", continuing as ever to not go anywhere.
Further, as the above panel shows, Gold now lies -104 points (or -7.7%) from where 'twas at mid-year in 2016, still choosing to be docked in its 1240-1280 box, wherein week-after-week little opportunity knocks. To be sure for the long-term stacker, averaging in at the same price over and over rather defeats the whole purpose.
Moreover with precisely one-half of 2017 in the bag, the precious metals have finally lost what had been their cheery month-after-month leading role within the BEGOS Markets as we see below, the chart-topping component now being the Euro! And from "The Dept. of Never Say No", coming in second is the ever-correctionless S&P 500, don't you know, our "live" price/earnings ratio therein at 34.3x ... oh say it ain't so!
So here are the current year-to-date standings, with Gold 'round the center row. And query this: ought Silver's performance really be so low (+4.2%), given not just Gold's is almost double (+7.8%, most of which came in the year's first two months), but that Copper's too is +7.9%? The average Gold/Silver ratio millennium-to-date is 62.4x, but presently is 74.8x. To price Silver back up to that average means an increase of 19.9% (which from today's level of 16.625 would bring us to 19.930). Just sayin'...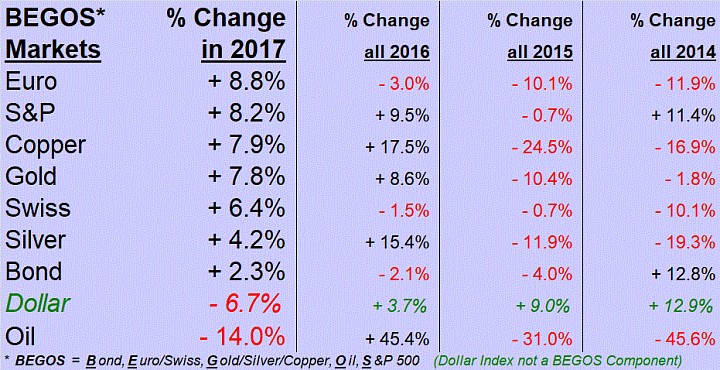 Specific to this past week, Gold settled yesterday (Friday)...
More