Looking at the 1H GBP/USD chart, the pair has completed a double top and is testing some support factors:
1) The 1.6850 area is a previous resistance area.
2) The 100-hour SMA is around 1.6850
3) There is a rising trendline that price action has stalled at in the 1H chart.
4) Stochastic-20, RSI-40. The combination of these levels for the two oscillators represent a completion of a bearish cycle, and suggests readiness a bullish one, IF the market is bullish in that time-frame.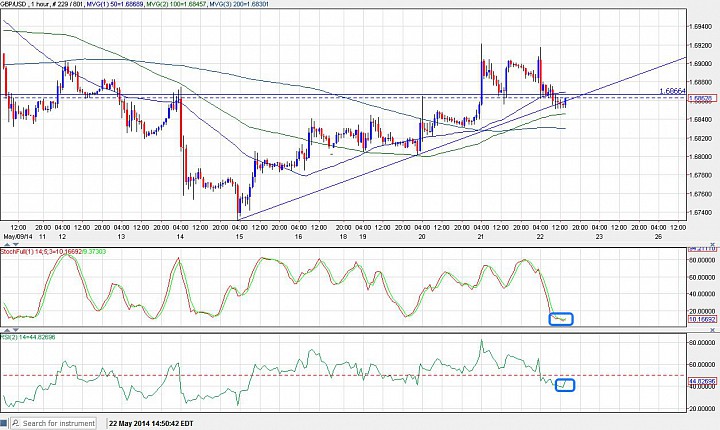 (gbpusd 1h chart)
Price action in the 1H chart has been indeed bullish this week.
Bullish outlook:
A break above 1.6866 could return the focus toward the 1.69 handle up to the 1.6920 high. 
This is a near-term bullish outlook. Only a break above 1.6920 should extend the bullish outlook outside of the intra-session time-frame.
Bearish:
Failure to push above 1.6880, and a clear break below 1.6840 could reverse this week's bullish trend, keeping GBP/USD sideways, with near-term bearish bias.