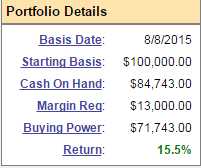 We are right on target.  
At the end of our 3rd month, our 5% Portfolio (now called the Options Opportunity Portfolio) is right on target with an overall portfolio balance of $115,538, which is up 15.5% from our August 8th starting date.  Even more impressive is the $26,521 (26.5%) we've made on the positions we've closed so far and we've re-invested some of those profits into new, aggressive long-term positions that we feel will bring us further net gains down the road.
The 5% (Monthly) Portfolio is a project we have been running with Seeking Alpha for readers who were interested in learning various option trading techniquest that could generate a monthly income.  The name was changed to the Options Opportunity Portfolio, which is also descriptive but our goal remains using a $100,000 Portflio with ordinary margin to generate $5,000 in monthly income.  As you can see, our current open positions are using just $13,000 in margin and we have $84,743 in cash, reflecting our very cautious stance in the current market environment.  
Another huge educational point we are trying to make here is that you don't have to risk a lot to get great returns.  Here is a rundown of all the positions we've closed to date – about 17 different stocks and ETFs we've identified over the same amount of weeks – not a very active portfolio but not one for passive traders either (and that reminds me that our Butterfly Portfolio Seminar will be next week in Washington DC!).  
It should be noted that our biggest winning position that we've closed, SQQQ (+$9,351), is also our biggest open losss that we haven't closed (-$8,050) and that's the focus of today's lesson.  SQQQ is an ultra-short Nasdaq ETF that moves 3 times the inverse to QQQ.  We use it as a hedge, as insurance, to protect our long-term positions and, like any insurance policy – we kind of hope it never pays off!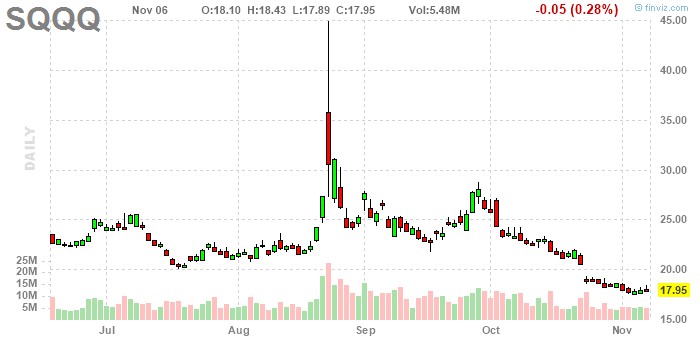 Still, the nature of the market is that it goes up and down with great regularity and, currently, SQQQ is down a lot as the Nasdaq is back at all-time highs so we have, at…
Provided courtesy of Phil's Stock World.