On Jan 2, we issued an updated research report on waste management services provider, Clean Harbors, Inc. CLH.

Clean Harbors is currently focusing on improving efficiency and lowering operating costs through enhanced technology, process efficiencies and stringent cost management. The company has a competitive advantage in the treatment, storage and disposal facilities (TSDFs). Hence, by setting-up additional service locations near TSDFs, it expects to minimize capital expenditures and increase market share within the Industrial and Field Services segment. This, in turn, will increase capacity utilization and improve overall profitability.

With several facilities on the Texas gulf coast, Clean Harbors provides a broad range of services such as end-to-end hazardous waste management, emergency spill response, industrial cleaning and maintenance, and recycling services. The company has earned a name for itself as a leading emergency response firm through dedicated staff and integrated facilities. Consequently, it is expected to leverage its expansive infrastructure, specialized equipment, capital base and customer relationships to help rebuild Texas that was ravaged by Hurricane Harvey.

At the same time, Clean Harbors continues to make capital investments to enhance its quality and comply with government and local regulations. The current regulatory requirements are cost intensive and complicated for in-house disposal facilities, which in turn compel most companies to outsource their hazardous waste disposal needs. This is where Clean Harbors steps in with its suitable disposal firms in Canada and the United States. The company is currently concentrating on strategic acquisitions to expand its business in the oil collection and refinery markets. Expansion of the existing services portfolio, especially in non-disposal services, is expected to generate incremental revenues in the future.

However, volatility in fuel prices and new environmental policies are rapidly transforming the American energy sector while escalating tensions in the Middle East are clouding the global oil picture. The company's exploration, drilling activity and production are largely dependent upon the operation of oil rigs and on the global and North American oil prices. Oil price instability and price uncertainties have resulted in lower activity levels, which are negatively impacting the business. Clean Harbors has underperformed the industry with an average decline of 5.9% in the last three months against a gain of 3.2% for the latter.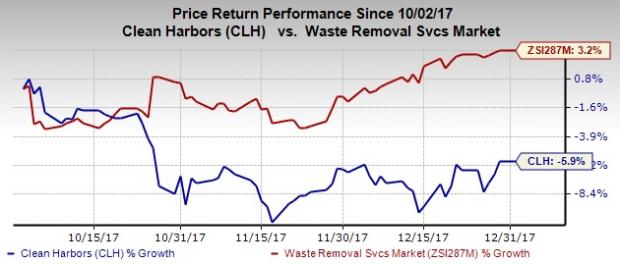 In addition, Clean Harbors' demand cycle is highly seasonal. The company typically sees a decrease in demand for environmental services in the first quarter owing to frigid weather, mainly in the Northern and Midwestern United States and Canada. As a result, reduction in volumes of waste and higher operating costs associated with operating in sub-zero temperatures with high levels of snowfall impair the smooth functioning of the business. The seasonal variations reduce the predictability of income and weaken the company's earnings.

Nevertheless, we remain encouraged with the inherent growth potential of this Zacks Rank #3 (Hold) stock. Better-ranked stocks in the industry include NV5 Global, Inc. NVEE, Heidrick & Struggles International, Inc. HSII and Kforce Inc. KFRC, each carrying a Zacks Rank #2 (Buy). You can see the complete list of today's Zacks #1 Rank (Strong Buy) stocks here.

NV5 Global has a long-term earnings growth expectation of 20%. It topped earnings estimates thrice in the trailing four quarters with a positive surprise of 4.5%.

Heidrick & Struggles International has a long-term earnings growth expectation of 15%.

Kforce has an average positive earnings surprise of 2% in the trailing four quarters.

Zacks Editor-in-Chief Goes "All In" on This Stock

Full disclosure, Kevin Matras now has more of his own money in one particular stock than in any other. He believes in its short-term profit potential and also in its prospects to more than double by 2019. Today he reveals and explains his surprising move in a new Special Report.

Download it free >>
Want the latest recommendations from Zacks Investment Research? Today, you can download 7 Best Stocks for the Next 30 Days.
Click to get this free report
NV5 Global, Inc. (NVEE): Free Stock Analysis Report
Kforce, Inc. (KFRC): Free Stock Analysis Report
Heidrick & Struggles International, Inc. (HSII): Free Stock Analysis Report
Clean Harbors, Inc. (CLH): Free Stock Analysis Report
To read this article on Zacks.com click here.
Zacks Investment Research