The USD/JPY was rallying ahead of the FOMC meeting minutes. The market has been expecting a hawkish shift in the Fed's monetary policy stance, and the minutes did not disappoint. 
Members of the FOMC agree that the recent improvement in the jobs market warrant a rate hike sooner than previously anticipated, which means, if jobs data continue to impress, we might expect a rate hike before mid-2015.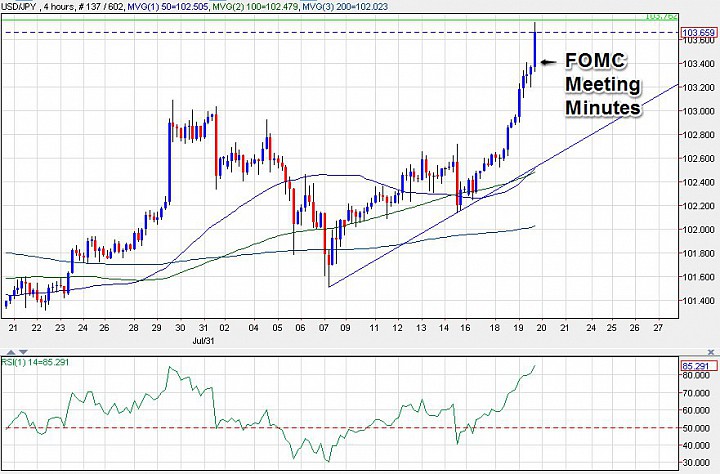 (USD/JPY 4H Chart)
The USD/JPY was already bullish, stalled briefly before the release of the minutes, and then accelerated higher after it. Price is now poised to test the 103.75-104.10 highs from March and April. With the RSI in extreme overbought condition in the 4H chart, we should probably expect some resistance around 104, towards the end of the week (expect some profit taking as well as USD/JPY-bears to take advantage of the resistance factor and overbought condition).
Then, let's look for support down to the 102.80-103 area. If the market can find support here, we can give USD/JPY an even more bullish outlook, with the high on the year around 105.44 in sight.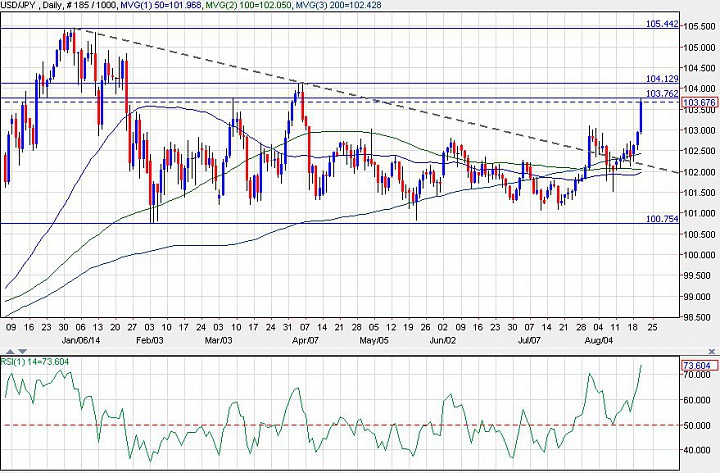 (USD/JPY Daily Chart)