CyberArk Software (NASDAQ:CYBR) recently posted solid first quarter earnings which indicated that demand for its privileged account solutions was soaring. Revenue rose 42% annually to $46.9 million, beating expectations by $3.5 million. Non-GAAP net income rose 46% to $8.3 million, or $0.23 per share, topping estimates by seven cents. GAAP net income rose 2% to $4.3 million, or $0.12 per share.
Those solid numbers helped CyberArk stock stay afloat on May 6 after FireEye (NASDAQ:FEYE) dragged down multiple cybersecurity stocks with a sales miss followed by weak guidance for the current quarter and full year. In a previous article, I discussed four reasons CyberArk was a compelling buy: its "best in breed" reputation in privileged account protection, its widening moat, its consistent profitability, and its buyout potential. Today, we'll discuss four key charts from CyberArk's recent investor presentation to better understand the company's future.
1. CyberArk dominates its niche
CyberArk's greatest strength is that it dominates the privileged accounts niche of the cybersecurity market. Many cybersecurity companies focus on securing the external perimeter with threat prevention solutions or firewalls, while larger IT companies offer monitoring solutions within the network. CyberArk, however, counters hackers who gain access to privileged employee accounts to steal data.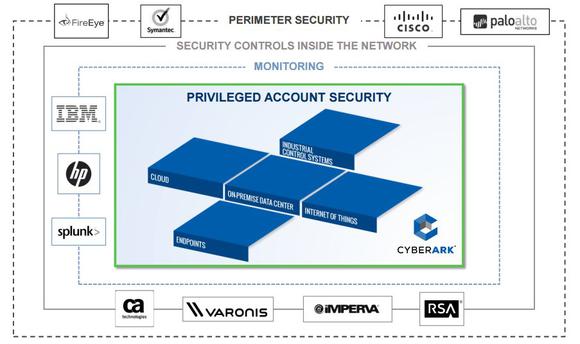 Almost 8% of all data breaches in 2015 were caused by the misuse of privileged accounts, according to Verizon's (NYSE:VZ) Data Breach Investigations Report. That might only seem like a small slice of the cybersecurity pie, but CyberArk doesn't face much competition in that space. Research firm IDC calls the company the "PAM (privileged account management) pure-play 'big gorilla' with the most revenue and largest customer base."
2. "Land and expand" business model
CyberArk uses a "land and expand" model to generate more revenue from each customer. For example, the company first sells a customer an initial license for its...
More