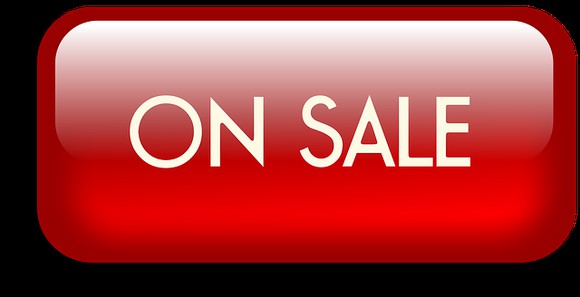 After an indiscriminate beating of drug and device makers to begin the year, there are quite a few healthcare stocks on sale. I've pulled out a couple smaller companies poised for explosive growth, and a couple underappreciated big pharmas that have somehow flown under the radar.
Tiny heart pump maker Abiomed (NASDAQ:ABMD) recently tapped into a enormous U.S. market unopposed. A recent upset from clinical stage biotech Celldex (NASDAQ:CLDX) has its shares trading lower than I think they should be.
If it's big drugmakers you want, it appears major developments at AbbVie (NYSE:ABBV) and Roche (NASDAQOTH:RHHBY) have also gone unnoticed.
AbbVie: Offsetting Humira
Clearly the biggest weight holding back AbbVie stock is fear of incoming biosimilar competition for megablockbuster Humira. I'm inclined to interpret the U.S. Patent and Trademark Office's refusal to even review some Humira patents that Amgen contends are invalid as reason to expect the $8.4 billion in U.S. annual sales AbbVie enjoyed last year will continue for several more at least.
On the plus side, recently acquired Imbruvica became the first FDA-approved, chemo-free, first-line treatment option for patients with the most common form of leukemia. This and previous indications could help Imbruvica contribute $6 billion in annual revenue for AbbVie, up from the $659 million it recorded last year.
At 18-times trailing earnings, AbbVie isn't "cheap" by this standard measure. Rather, this is a stock for investors looking for growth at a reasonable price as measured by an extremely low forward PEG ratio.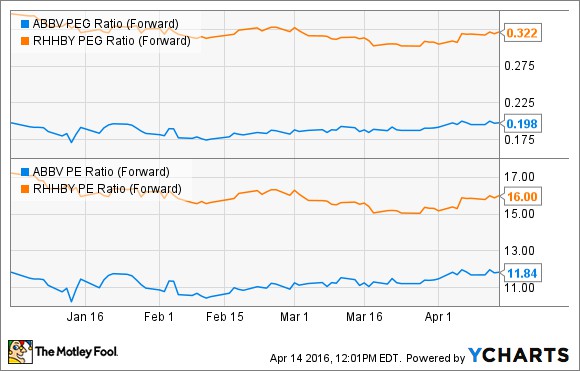 Measured as the forward P/E ratio divided by the expected earnings-per-share growth percentage during the period, a forward PEG ratio below 1.0 generally suggests a stock is undervalued.
Roche: Outclassing the competition
Another recent approval that should lead to significant growth for AbbVie brings us to our next Big Pharma player, Roche. The two have partnered on recently approved first-in-class BCL-2 blocker Venclexta.
Aimed at difficult to...
More