We first realized that something was off at Deutsche Bank in the summer of 2013, when long before the bank's unprecedented management, regulatory and litigation problems surfaced, we first pointed out that while Europe was supposedly undergoing a "recovery" (a "recovery"... which led directly to NIRP and QE), Europe's biggest bank was deleveraging its balance sheet at a pace suggestive of an economic recession if not depression. As the chart below shows, from nearly €900 billion in market value of derivatives (either asset or liability), DB had shrunk its net derivative book to just over €600 billion less than two years later.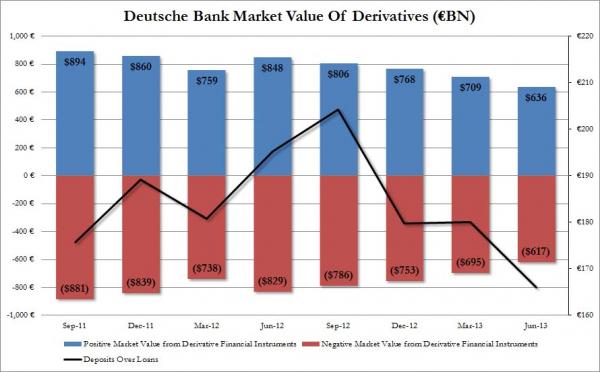 To be sure, the management team did try to lever up notably since then, with the Q1 positive and negative market exposure rising to the highest since 2014 courtesy of the ECB's QE...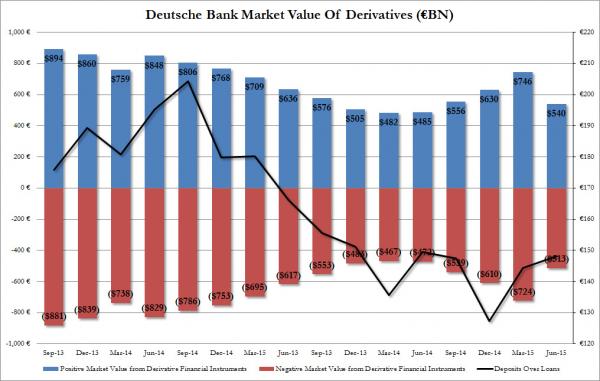 ... and then the biggest litigation scandal to hit the German bank dropped like a ton of bricks on DB's head, resulting in a collapse in the balance sheet and leading not only to the prompt exit of its co-CEOs, Anshu Jain and Jurgen Hitschen, but to a whopping capital raise announcement and ever increasing billions in litigation fees and penalties, as it has emerged in the past year that Deutsche Bank was systematically rigging every single market it participated in but far  worse, not making virtually any profit in the process!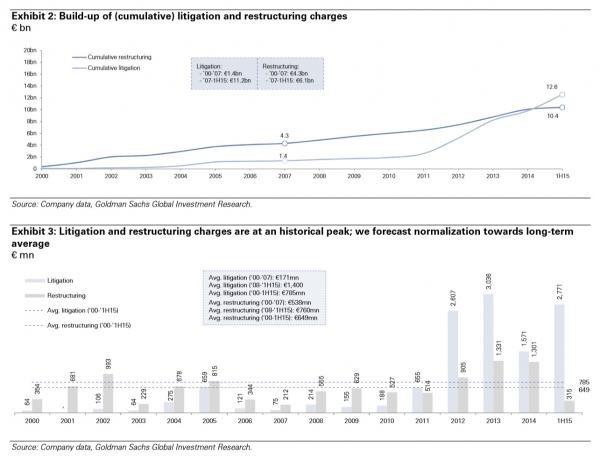 Moments ago, Europe's largest bank by assets and by gross notional derivatives, announced a raft of high-level management changes as part of an anticipated and sweeping restructuring of key divisions and senior-level committees.
As WSJ reports, Colin Fan, the investment-banking co-head responsible for securities trading, will resign effective Monday. Garth Ritchie, the current global equities head, would be promoted to take his spot.
As a reminder, this is the same Colin Fan who exactly one year ago was scolding his traders through a video clip that quickly went viral. As the FT remind us, Colin Fan, "is annoyed with traders who are giving his industry a bad name. He made that much clear in an internal video that swiftly went viral in May after being leaked to the Financial Times."
In the video, the 41-year-old faces the camera and scolds his employees, telling them he has "lost patience" with reckless messages similar to those discovered by global regulators and used in part to justify huge multimillion fines on banks like his own.

 

"That almost caused my wife a heart attack," he admits. "Somebody texted her and said 'OMG, Colin's video has gone viral'. The first thing she thought was: what stupid thing have you done that went viral?"

 

The video was part of Mr Fan's attempt to bring "cultural change" to Deutsche Bank: which, in non-banker speak, means stopping traders from saying stupid things.
One year later, the 42-year old has realized that if you remove fraud and crime from the equation, banks are just not that profitable. And his hope that this is not the case, caused both the board and the market to lose patience with him.
His replacement, Garth Ritchie will have oversight of global markets and trading and will also join a revamped management board.
Besides Mr. Fan, other senior executives closely affiliated with former co-CEO Anshu Jain, who left in July, will leave, including Michele Faissola, currently head of the bank's asset and wealth-management business.
Why the dramatic change?
According to the WSJ, "directors want to make Deutsche Bank less complicated and more responsive to regulators, following a series of financial and regulatory missteps." Which probably means that the announcement of a massive gold rigging cartel, one in which Deutsche Bank was speculated to be among the ring-leaders, is also imminent.
Under new co-chief executive officer John Cryan, Deutsche Bank is abolishing committees and streamlining how its main units are represented on the management board, which is responsible for overseeing strategy, compliance, personnel and governance of businesses globally.
But the most profound change is that Deutsche Bank will split its investment bank into two pieces: one, the underwriting and advisory part, focused on mergers and other deals, corporate finance and transaction banking services such as cash management, and the other on trading and global markets.
While not as profound as imposing an internal Glass-Steagall wall, or creating a "bad bank" (at least not yet), this may be the first step to much more dramatic org chart overhauls, some which will likely end up in splitting off depositor assets from risk-trading activity.
WSJ also adds that the current investment-bank co-head Jeff Urwin will run the investment-banking division starting in January, with Mr. Ritchie overseeing the hived-off trading and markets division. Mr. Urwin will replace Stefan Krause, Deutsche Bank's former finance chief, on the management board. Mr. Krause will leave the bank at the end of this month.
DB's new co-CEO JOhn Cryan said that "we want to create a better controlled, lower cost, and more focused bank that delivers long-term value to shareholders and great experiences to clients," Deutsche Bank Chairman Paul Achleitner said the restructuring requires tough decisions, and that the bank "rarely underwent such a fundamental reorganization in its history."
Of course, this is merely the latest in a long series of Deutsche Bank restructurings, each of which has found it more and more difficult to generate substantial profits in the day and age of global pervasive QE. We expect the deleveraging process to continue as this latest management shake up realizes that unwinding (or otherwise novating) over €50 trillion notional in derivatives in an environment as illiquid as this one, is far more complicated than some macrotourists make it sound.