Shares of Simon Property will reach $205 within a month

7 august 2015
Simon Property Group, a leading global retail real estate investment trusts (REIT), issued solid financial report for the second quarter of 2015. Total revenues increased 14.1% y-o-y to $1.34 bn and it surpassed consensus estimate of $1.21 bn. For the US Malls and Premium Outlets portfolio, occupancy fell 40 basis points to 96.1%. However, sales per square foot moved up 2% to $620, and base minimum rent per square feet rose 4.9% to $48.07, while releasing spread decreased 160 basis points to 18.4%. Funds from operations (FFO) jumped 21.8% y-o-y to $2.63 per share and were well ahead of analysts' average forecast of $2.35.
In Q2, Simon Property completed a 140,000-square foot expansion at Las Vegas North Premium Outlets in North America, and a 130,000-square foot expansion at Shisui Premium Outlets in Shisui (Chiba), Japan. Construction is also underway at other important expansion projects including Roosevelt Field, Del Amo Fashion Center, King of Prussia, The Galleria in Houston, Woodbury Common Premium Outlets, San Francisco Premium Outlets and Chicago Premium Outlets.
At the end of the first quarter, Simon Property had redevelopment and expansion projects in progress at 28 properties across the US.
In Q2, Simon Property spent $505.7 mn for share repurchase. A quarterly dividend was $1.55, up 3.3% sequentially and 19.2% y-o-y, which offers annualized dividend yield of 3.3%. Besides, Simon Property raised both the lower and upper ends of its 2015 FFO per share guidance range to $10.02-10.07.
With the US economy showing signs of recovery, spending power of richer consumers is improving, and Simon Property seems keen on leveraging this trend. I believe the company's shares are well positioned for the further growth. Medium-term target price is $205.
<!== INSTRUMENT %% %60% ==!>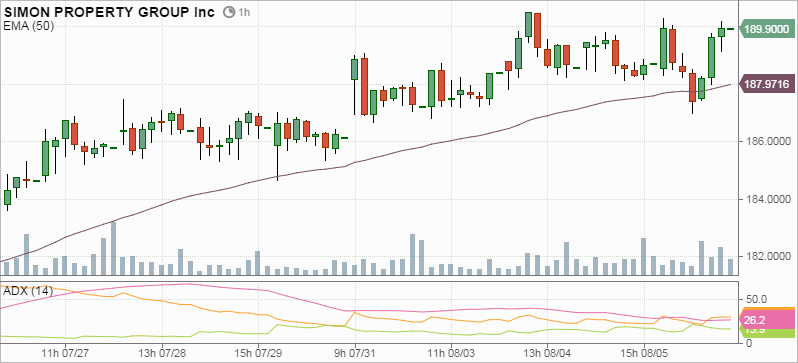 Voting is over
Waiting for


the right answer