This week, we noted that USD/JPY is heading towards a key resistance around 114.30-114.35. I noted that if it holds above 113, the would be mounting pressure on this key resistance, and it would likely break, opening up the next resistance around 115.60-116.

$USDJPY 4H Chart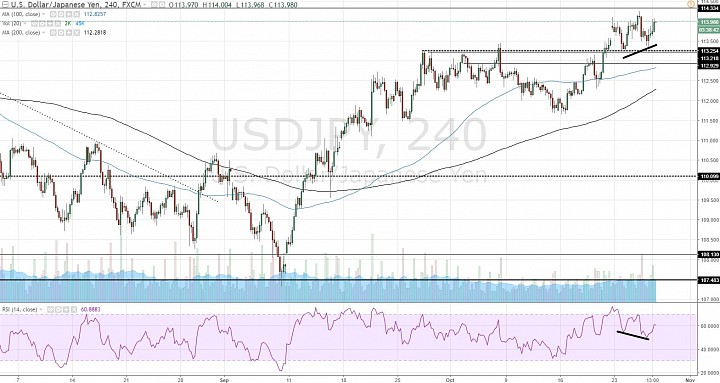 (click to enlarge)

Bearish Divergence and Positive Reversal:
- First of all, we should acknowledge that there was a bearish divergence as price made a higher high and the RSI made a lower high in the overbought territory.
- This is call a bearish divergence, and signals bullish momentum petering, which could also be a precursor to a bearish reversal.
- However, we also should note that there was a higher low corresponding to a lower low in the RSI.
- This is a bullish continuation signal, at least for another swing.
- Based on these observations, I would refrain from relying on the resistance around 114.30-114.35 and favor the breakout scenario.
Failure:
- If price action fails to follow through the bullish breakout scenario and falls below 13.00, then USD/JPY is likely staying in the consolidation range (roughly between 108 and 114.30).