The sector's fundamentals remain strong, analysts say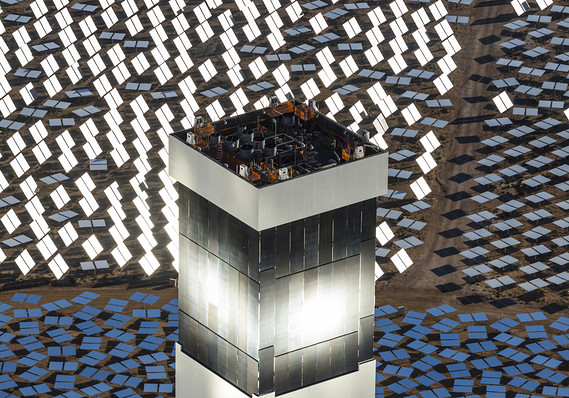 BrightSource Energy, Inc.
Aerial view of Tower 1 and its heliostats at the Ivanpah power plant.

Solar stocks have reminded investors this week of the extreme volatility of years past as the sector saw a selloff Monday, followed by a mild recovery Tuesday.
It appears that, rather than selling off because of some fault of their own, solar stocks have been judged guilty by association, falling with the rest of the market.
Moreover, there are no catalysts in sight other than far-off third-quarter earnings reports, which means the sector will likely remain unstable.
Sharp price declines for oil and gas have also not helped, said Angelo Zino, an analyst with Capital IQ. There's the perception that cheaper traditional energy sources will result in less demand for solar, even though the sector's supply-and- demand balance looks favorable well into next year, he said.
Macroeconomic fears such as the European slowdown, the Ebola outbreak, the conflict with ISIS, and others "are clear risks affecting investors' psychology," but they don't alter the sector's positive outlook, said Josh Baribeau, an analyst with Canaccord Genuity, in a note to clients.
What's an investor to do? "We would not recommend fighting the tape" as the sector is mired in risk-off trade, he said.
"We still like the residential market and view new loan products, stable subsidies and competition heathy for greater growth," Baribeau added.
The Guggenheim Solar exchange-traded fund TAN, +1.41% a top ETF in the sector, has lost 16% so far this month. That compares with losses of 2.5% for the Russell 2000 RUT, +1.17% a benchmark for small-cap stocks, and 4.1% for the S&P 500. SPX, +0.16%
Losses for the solar ETF this year have reached 2.8%, versus a loss of 7.7% for the Russell 2000 in the same period. The S&P has gained 2.3% so far this year.
Capital IQ's Zino sees upside for developers SunEdison Inc. SUNE, +3.50% and SunPower Corp. SPWR, +1.93% solar-panel maker and developer First Solar Inc.FSLR, +2.95% and panel maker Trina Solar Ltd. TSL, +0.88%
Canaccord's Baribeau has solar developer Canadian Solar Inc. CSIQ, -0.38% solar inverter maker Enphase Energy Inc. ENPH, +3.16% , and solar installer SolarCity Corp. SCTY, +2.81% on his list, in addition to SunEdison. These are winners for offering the most geographic diversification, he said.