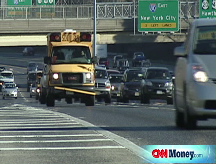 NEW YORK (CNNMoney.com) -- The Organization of Petroleum Exporting Countries, in a bold but not unexpected move to prop up falling oil prices, said Wednesday that it would cut production by 2.2 million barrels a day starting next month. The cut is the largest ever announced by OPEC.
OPEC hopes the cuts will stabilize prices, which have dropped by more than $100 a barrel since reaching a record high in July. The worsening economic downturn has sapped demand worldwide.
But traders were unmoved by the production cut, which had been widely expected. U.S. crude for January delivery sank $3.54 to settle at $40.06 a barrel on the New York Mercantile Exchange.
That's the lowest settlement price since July 13, 2004, when oil settled at $39.44.
After the OPEC announcement, prices fell $2.10 to $41.50 a barrel. Oil had been as high as $45.50 earlier in the day.
Oil prices have fallen rapidly in recent months due to "the repercussions of the financial crisis," said OPEC President Chakib Khelil. "We are in a very deteriorating environment," he said.
"This move by OPEC was well telegraphed by the market," said Phil Flynn, senior market analyst with Alaron Trading in...
More