Facebook, Inc. FB has introduced three new suggestions in its artificial intelligence (AI) powered voice assistant M, to Messenger users across the U.S.
M relies on AI machine learning techniques to offer users suggestions by popping into an open conversation. It puts forward relevant content to better the communication experience on the platform.
Suggestions from M appear when it recognizes "intent in a conversation" and initially included actions, such as sending stickers, paying/requesting money, sharing one's location, making plans, starting a poll in group conversations and getting a ride of Lyft or Uber.
Per the latest blog post update, the messaging app's AI assistant will now proactively suggest that people save content posted in their Messenger conversations, such as URLs and videos as well as Facebook posts, events, and pages. Also, Messenger's new 'Saved' chat extension enables easy content sharing in one-to-one or group messages.
Facebook, Inc. Price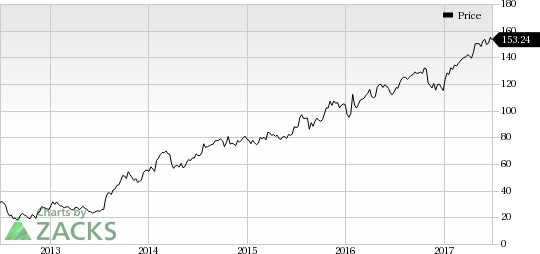 Moreover, M will surface suggestions to wish people happy birthday — with a birthday sticker, card or video with art effects.
Furthermore, if people chatting in a one-on-one thread or in a group express intent to make a call, M will suggest initiating a voice or video call on Messenger.
Additionally, M suggestions have been made bilingual and available in both English and Spanish, to users in the U.S. and Mexico.
Notably, Messenger is Facebook's third platform with one billion plus users. The social media platform is aggressively working on monetizing the opportunities presented by its subsidiaries. Chatbots and 'conversational commerce' are likely to be the key strategies for Messenger and WhatsApp.
Presently, virtual assistant software programs are being widely equipped inside plethora of devices.
For instance, Alphabet's GOOGL Allo mobile messaging app contains Google Assistant, which can reveal search history to people messaged. Likewise, Siri helps to share addresses in Apple's AAPL Messages app for iOS 10.
In the past few months, Samsung (SSNLF) launched its own voice recognition system called Bixby, which debuted on the Galaxy S8 and S8+ phones.
Recently, Amazon AMZN released a new feature for its Echo devices, giving users the ability to call and message each other using their Echos or the Alexa app.
Zacks Rank and Share Price Movement
At present, Facebook carries a Zacks Rank #3 (Hold). We also note that Facebook has underperformed the Zacks categorized Internet - Servicesindustry in the last one year. The company's shares increased 34.1% compared with the industry's gain of 36.3%.

Today's Stocks from Zacks' Hottest Strategies
It's hard to believe, even for us at Zacks. But while the market gained +18.8% from 2016 - Q1 2017, our top stock-picking screens have returned +157.0%, +128.0%, +97.8%, +94.7%, and +90.2% respectively.
And this outperformance has not just been a recent phenomenon. Over the years it has been remarkably consistent. From 2000 - Q1 2017, the composite yearly average gain for these strategies has beaten the market more than 11X over. Maybe even more remarkable is the fact that we're willing to share their latest stocks with you without cost or obligation. See Them Free>>
Want the latest recommendations from Zacks Investment Research? Today, you can download 7 Best Stocks for the Next 30 Days.
Click to get this free report
Amazon.com, Inc. (AMZN): Free Stock Analysis Report
Facebook, Inc. (FB): Free Stock Analysis Report
Alphabet Inc. (GOOGL): Free Stock Analysis Report
Apple Inc. (AAPL): Free Stock Analysis Report
To read this article on Zacks.com click here.
Zacks Investment Research