The biotech sector has had a very challenging couple of months as the biotech index has stepped a toe into official bear market territory.
Frequent dips are normal for this volatile but lucrative part of the market with the small cap part of the sector now having five official bear markets since 2009.
So is this recent bout of volatility the result of a temporary shift in sentiment or has the secular case for investing in this sector changed recently?
It has been a challenging few months for biotech investors. The small cap part of the sector is now in its fifth official bear market since 2009 and the overall biotech indices have also dipped their toe into this undesired state.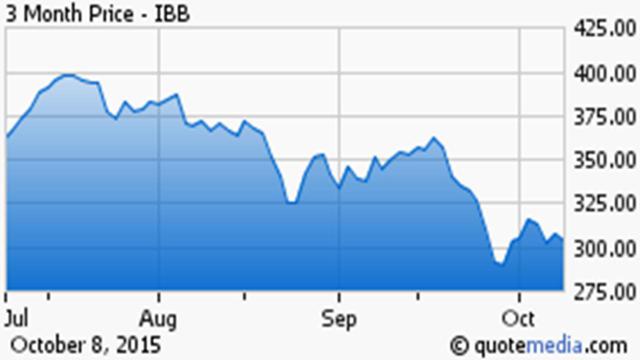 I stated early this summer that the sector was possibly in a bubble and was overdue for a correction. In addition to buying exhaustion, the space has been hit by election driven rhetoric about drug price "gouging" from presidential candidate Hillary Clinton as well as certain members of Congress. Both the NY Times and Wall Street Journal have also done front page pieces about some unsavory practices by certain bad actors in the industry.
So this is just another one of the frequent "hiccups" that hits the sector or have the long term favorable secular tailwinds for the industry somehow changed over the summer?
The first thing investors should ignore is the recent...
More