Oil price has been recovering sharply in August. In fact it could be back in the bullish mode after a period of consolidation heading into August.
USDWTI Crude 8/17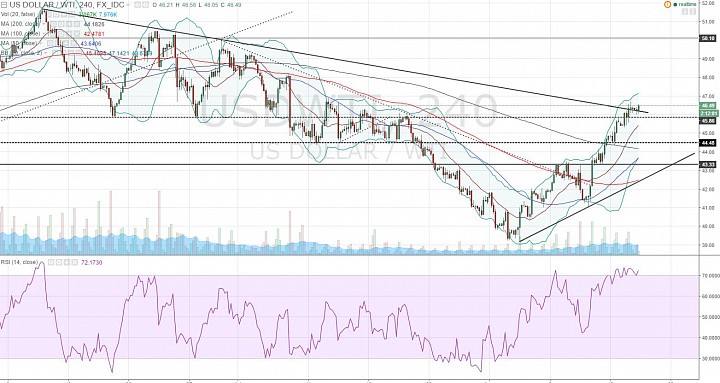 (click to enlarge)
Bullish momentum vs. trendline:
- In the 4H chart above, you can see that price has made a strong recovery since falling below 40 briefly.
- Price has broken above the cluster of 200-, 100-, and 50-period simple moving averages (SMAs).
- We also saw the RSI push above 70, then stay above 40 and return above 70. This reflects maintenance of development of bullish momentum. 
- Finally, this week, we are seeing price crack the falling trendline that goes back to the high in June. 
Anticipating a pullback:
- As price cracks the falling trendline, USDWTI revives the bullish outlook. 
- However, in the short-term we should be prepared for a pullback as the RSI pushes above 70.
- If there is a pullback, we can look for resistance at 44.50. 
- If USDWTI is indeed back in the bullish mode, the pullback should probably hold above the 43.30 area. 
- The 43.30 area has a support/resistance pivot, and a rising trendline. 
- A break below 43 would likely revive the bearish outlook and put the 39.17 low in sight.
- For now, with the bullish outlook is the primary outlook.
- There is a support/resistance pivot at 48.00. Then, the next target should be the 50-50.10 area. 
- Ultimately, there is upside risk back towards the June-high, and 2016-high, around 51.60 with the potential of pushing higher. 
(click to enlarge)
Bullish continuation:
- In the daily chart we can see that USDWTI has been bullish in 2016.
- A bullish continuation scenario thus has the potential of pushing above the current high on the year at 51.60 and push to the next pivot around 53.85.
- For now, the most aggressive bullish outlook should probably be towards the 60 level, which will be near the 2015-highs. 
- Note that there is an inverted head and shoulder developing in the daily chart - another reason to put on a bullish outlook for USDWTI.