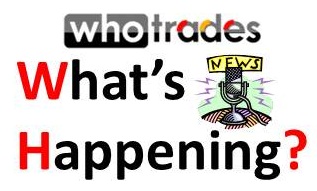 Upcoming S&P 500 Earnings Releases:
Check out the earnings parade of the big companies
Before the bell:
Abbott (NYSE: ABT)
Bank of America Corp. (NYSE: BAC)                
BNY Mellon (NYSE: BK)
BlackRock, Inc. (NYSE: BLK)                                                  
Comerica Incorporated (NYSE: CMA)
W.W. Grainger (NYSE: GWW)
KeyCorp (NYSE: KEY)
Mattel (NASDAQ: MAT)
Northern Trust (NASDAQ: NTRS)
PepsiCo (NYSE: PEP)
The PNC Financial Services Group (NYSE: PNC)
St. Jude Medical, Inc. (NYSE: STJ)
Stanley Black & Decker, Inc. (NYSE: SWK)
U.S. Bancorp (NYSE: USB)
After the bell:
American Express Company (NYSE: AXP)
eBay (NASDAQ: EBAY)
International Business Machines (NYSE: IBM)
Kinder Morgan (NYSE: KMP)
Noble Corp. (NYSE: NE)
SLM Corp. (NASDAQ: SLM)
SanDisk Corp. (NASDAQ: SNDK)
Xilinx, Inc. (NASDAQ: XLNX)
---
Important Data Releases:
UK:
4:30AM EST Office for National Statistics will release Claimant Count Change, which measures change in the number of people claiming unemployment-related benefits during the previous month, and will also release Unemployment Rate, which measures the percentage of total work force that is unemployed and actively seeking employment during the past 3 months.
Canada:
8:30AM EST Statistics Canada will release Manufacturing Sales m/m, which measures change in the total value of sales made by manufacturers.
Europe:
2:00PM EST European Central Bank (ECB)will release ECB President Mario Draghi Speaks at the Grand opening event of the European Cultural Days 2013, in Frankfurt. As head of the ECB, which controls short term interest rates, he has more influence over the euro's value. Traders examine his public engagements to drop subtle clues regarding future monetary policy.