Ethereum $ETHUSD has been surging in the past couple of months. Let's take a look at the recent rally.
ETH/USD Daily Chart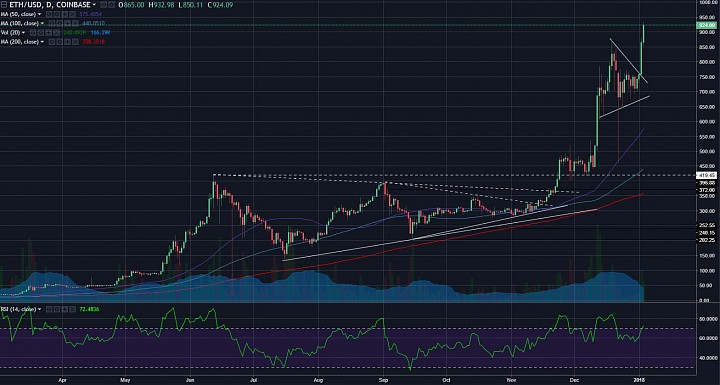 (click to enlarge)
The Slumbering Beast Wakes:
- From June through November, ETH/USD has consolidating in a triangle that started with a range of $150 to $420.
- Price basically stabilized around $300 and was coiling.
- Price started to rally in November and really caught fire in December.
- Note the bullish breakout from the triangle and the subsequent consolidation right at the range resistance.
- The subsequent bullish breakout in December met some resistance around $850. Another period of coiling occurred at the end of the year (ignoring the flash crash back to $455).
- This week, price broke above this triangle and is now heading to $1000, which I think ETH/USD will reach very soon.
- At this point, we should consider the $700-$750 area as strong support.
- But if the market is so bullish, even $850, the December high/resistance, could become support.