Apple Inc. is one step closer to becoming a $1 trillion company, after becoming the first public company to clear a $900 billion market cap and close there in Wednesday trading.
Apple AAPL, +0.82% closed up 0.8% at a record $176.21 Wednesday, its fourth consecutive record close, after reaching an intraday all-time high of $176.24, passing the $175.29 mark needed to hit $900 billion based on 5,134,312,000 shares outstanding. At the close, Apple is now valued at just over $904.72 billion. About 23.9 million shares exchanged hands, under the 52-week average daily volume of 28 million shares.
For Apple to reach the $1 trillion mark, shares need to trade above $194.77, based on current outstanding share counts.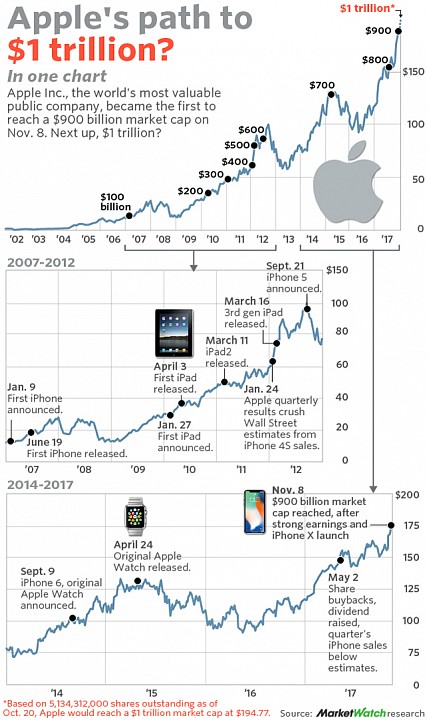 Last week, Apple earnings crushed Wall Street estimates with Chief Executive Tim Cook saying he expected this to be "the best holiday season yet."
It's perhaps appropriate that Apple may be poised to become the first trillion-dollar company in the wake of the Friday release of its iPhone X, where the "X" stands for 10, seeing it passed the $100 billion mark leading up to the release of the original iPhone, or iPhone "1," back in June 2007. Steve Jobs unveiled the original iPhone back in January 2007.