Chinese President Xi Jinping has been rough on what Marilyn Monroe called "a girl's best friend."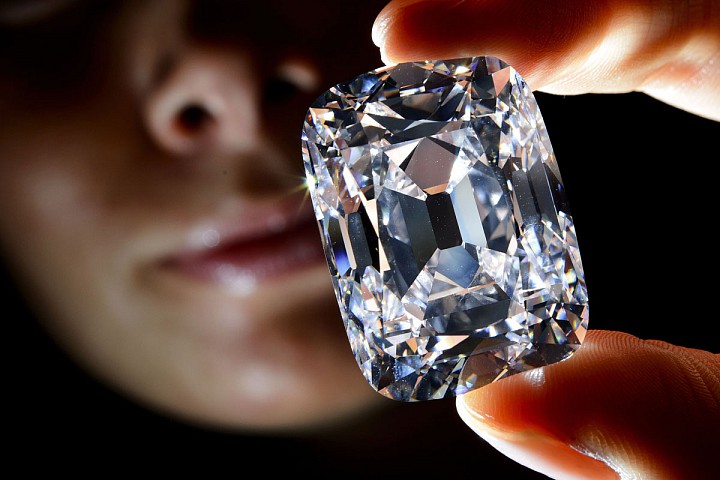 The CHART OF THE DAY tracks two diamond price gauges and another for fine wines the past six years. The average best price for top-quality one-carat diamonds was $7,852 on Aug. 4, a 30 percent drop since July 2011, while the Liv-ex 100 Fine Wine Index dropped 31 percent since the start of the same month, data compiled by Bloomberg show. Meanwhile, the broader measure for diamonds that includes smaller and lower-quality stones has decoupled from the luxury segment and rallied the past two years, partly because of events in China.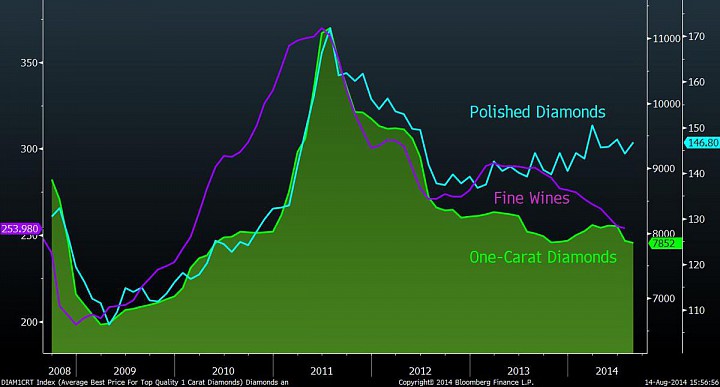 "The market price declines of collectibles such as fine wine and diamonds are related to the recent government policies, such as 'Building a Frugal Society,'" said Neil Wang, partner and China managing director in Shanghai at Frost & Sullivan Inc. "The Chinese government's recent action to fight against corruption has also discouraged show-off behavior and consumption of luxury goods."
China is the second-largest diamond market, consuming about 11 percent of polished diamonds, compared to 38 percent for the U.S., according to Edward Sterck, a London-based analyst for Bank of Montreal. Prices reached a record high in 2011 when "a speculative bubble developed and then we saw a correction and now we are at a level where real demand is driving the prices," he said.
Wang said China's wealthy are being less ostentatious not only in their choice of ornaments. Bans or limits on official banquets and gift-giving have forced premium winebrands to "re-adjust their positioning and present more middle-end products with lower prices," he said. China last year passed France as the largest consumer of red wine, Les Echos reported in January. Under Xi's anti-corruption campaign, the Central Commission for Discipline Inspection can detain indefinitely and investigate any of China's roughly 87 million Communist Party members.
Source: http://www.bloomberg.com/