World Wrestling Entertainment Inc. WWE reported robust results for second-quarter 2017. The company reported adjusted earnings of 7 cents, beating the Zacks Consensus Estimate by penny and also improved sharply from the year-ago quarter figure of 1 cent.
Notably, the company's earnings have surpassed the estimate for the first time in five quarters. Following the results, its shares witnessed a marginal gain of 1% during the trading session yesterday. In fact in the past six months, the company's shares have jumped 11.8%, outperforming the industry's decline of 3.7%.
Moreover, WWE's revenues of $214.6 million came above the Zacks Consensus Estimate of $205 million and jumped 8% year over year primarily on the back of 6% increase in revenues in North America. Further, revenues from outside North America gained 12% owing to surge in television distribution agreement rights fees and higher consumer product sales in the Europe/Middle East/Africa (EMEA) and Asia Pacific (APAC) region.

The number of average paid subscribers increased 8% year-over-year in second-quarter 2017 to 1.63 million. Further, WWE Network is available in the Indian Subcontinent, Germany, Malaysia, Austria, Switzerland and Japan.
Revenues from North America jumped 6% to $159.4 million, while revenues from Europe/Middle East/Africa (EMEA) inched up 1.1% to $36.6 million. The Asia Pacific (APAC) and Latin America generated revenues of $15.5 million and $3.1 million, which represent a gain of 38.4% and 72.2%, respectively.
Management is strengthening and expanding WWE Network through the creation of new content along with implementation of programs which will have higher customer attraction and retention power. Further the introduction of new features, expansion of distribution platforms and foraying into new regions will aid the drive.
Segmental details:
Media Division: Revenues from the company's Media division increased 13% to $132.2 million, mainly owing to increase in contractual television right fees and growth registered in WWE Network Subscribers. Network revenues were up 6% to $54.9 million and Digital Media revenues climbed 24.6% to $8.1 million. Moreover, Television and Home Entertainment revenues came in at $66.2 million and $2.4 million, up 18% and down 3.2%, respectively.
Live Events: Revenues from Live Events advanced 1.7% to $52.8 million on the back 11 additional events, which were held during the reported quarter. However, the company witnessed decrease in WrestleMania ticket revenue. A total of 92 events took place in the second quarter, which includes 66 events in North America and 26 internationally. In the prior-year quarter, there were 81 events in total, including 62 in North America and 19 globally. North-American live event revenues came in at $40.9 million, down 2.2% year over year. While International live event revenues were up 16% year over year to $12.8 million.
Consumer Product Division: This segment's revenues came in at $24.6 million, flat year-over-year. Revenues from WWE Shop jumped 12% to $8.4 million and 4% to $9.4 million from Licensing. However, these increases were overshadowed by $1.9 million decline in branded merchandise sales.
WWE Studios: This segment reported revenues of 0.4 million, flat year over year.
World Wrestling Entertainment, Inc. Price, Consensus and EPS Surprise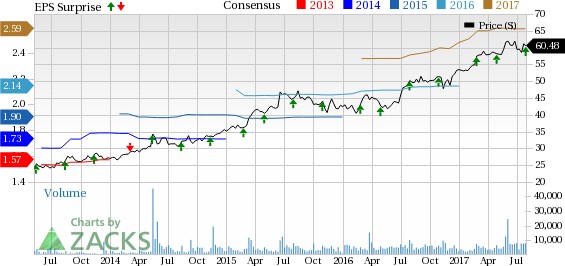 World Wrestling Entertainment, Inc. Price, Consensus and EPS Surprise | World Wrestling Entertainment, Inc. Quote
Other Financial Details
WWE ended the quarter with cash and cash equivalents of $132.8 million, long-term debt of $33.3 million and shareholders' equity of $242.3 million. In the second quarter, the company had generated free cash flow of $12.6 million compared with a negative free cash flow of $7.5 million in the year-ago quarter.
Guidance
Management is optimistic about achieving another great year of revenues and adjusted OIBDA growth. The company is targeting adjusted OIBDA of $100 million, which is nearly up 25% from the 2016.
For third-quarter 2017, WWE anticipates average paid subscribers of 1.54 million (+/- 2%). Adjusted OBIDA is projected in the range of $31–$35 million.
Zacks Rank & Key Picks
WWE currently carries a Zacks Rank #3 (Hold). Better-ranked stocks worth considering include Gray Television, Inc. GTN, Rogers Communications Inc. RCI and Sirius XM Holdings Inc. SIRI. Both Gray Television and Rogers Communications sport a Zacks Rank #1 (Strong Buy), while Sirius XM Holdings carries a Zacks Rank #2 (Buy). You can see the complete list of today's Zacks #1 Rank stocks here.
Shares of Gray Television have gained 27.9% in the past six months.
In the past three months, Rogers Communications stock has increased 12.6%.
Sirius XM Holdings has an impressive long-term earnings growth rate of 16.8%.
The Hottest Tech Mega-Trend of All
Last year, it generated $8 billion in global revenues. By 2020, it's predicted to blast through the roof to $47 billion. Famed investor Mark Cuban says it will produce ""the world's first trillionaires,"" but that should still leave plenty of money for regular investors who make the right trades early.
See Zacks' 3 Best Stocks to Play This Trend >>
Want the latest recommendations from Zacks Investment Research? Today, you can download 7 Best Stocks for the Next 30 Days.
Click to get this free report
Sirius XM Holdings Inc. (SIRI): Free Stock Analysis Report
Gray Television, Inc. (GTN): Free Stock Analysis Report
Rogers Communication, Inc. (RCI): Free Stock Analysis Report
World Wrestling Entertainment, Inc. (WWE): Free Stock Analysis Report
To read this article on Zacks.com click here.
Zacks Investment Research