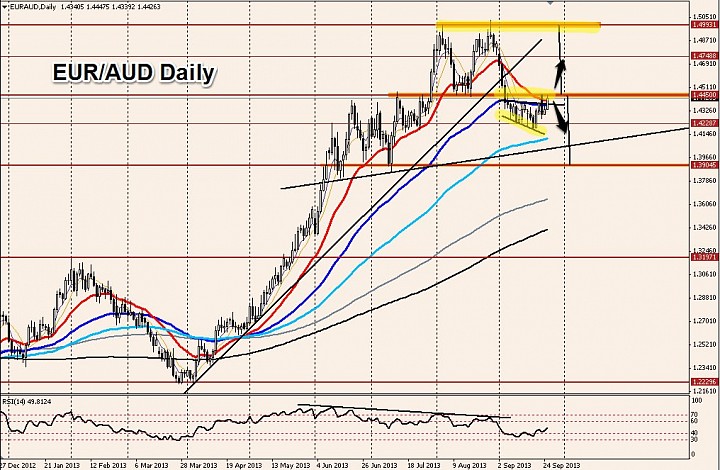 The EUR/AUD daily chart is interesting at the moment, as it seems that the Euro is poised to test and perhaps break through an important pivot at 1.4450.

Here are some factors to consider:
We have been in an impressive uptrend from the beginning of April until the end of August (from 1.2230 up to 1.4990).

That impressive rally needed some period of correction followed by consolidation, which is what it looks like has happened in the pair.

The RSI has also turned up after approaching the 30 oversold level (but not hitting it).

If in face we have a continuation scenario, look for a break and retest of this important 1.4450 pivot, followed by the middle of the range at the top of the uptrend, and the double top level of 1.4990.

For the bearish outlook, the 21 and 55 EMA's would hold as resistance here, and we start a further push down towards the upward sloping trendline and the horizontal pivot at the 1.39 handle. 
Since this is a daily chart, the test and break/rejection of this level can come swiftly, or it can take a several daily candles to give us the answer we are looking for. Therefore, its important to consider the possibility of price action going sideways for a while.

Let's watch these 3 scenarios, and hopefully can get on the right side of the market in this pair over the next few days and weeks.

Here's the EUR/AUD in the 1-Hour: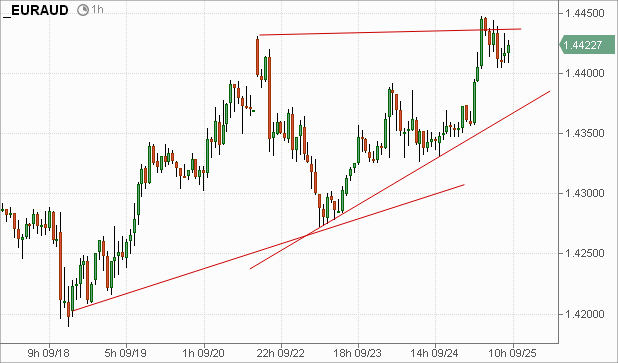 (Click on the image and press the right arrow button to see the latest price action).
- Nick