Symantec Corp. (SYMC) is exploring a breakup, according to people with knowledge of the matter, joining other large technology companies that are trying to make their businesses more focused and nimble.
The Mountain View, California-based software company is in advanced talks to split up its business into two entities, with one that sells security programs and another that does data storage, said the people, who asked not to be identified because the conversations are private. An announcement may be a few weeks away, one of the people said.
Kristen Batch, a spokeswoman at Symantec, declined to comment.
If the breakup is carried out, Symantec would add to the trend of Silicon Valley technology companies that are cleaving themselves into pieces. EBay Inc. (EBAY) said on Sept. 30 that it would separate its PayPal digital-payments unit and marketplace business into two companies by the end of next year. Earlier this week, Hewlett-Packard Co. (HPQ) said it would hive off the personal computer and printers businesses into one entity and carve the corporate hardware and services businesses into another company.
Symantec, which last month appointed its interim chief executive officer permanently to the role, has been struggling to rev up growth. Revenue declined in the latest fiscal year and is projected to be unchanged this year as the company grapples with a PC slump that has crimped sales of its antivirus software. Bloomberg News reported in April that Symantec hired JPMorgan Chase & Co. to explore strategic options and defend against activist shareholders.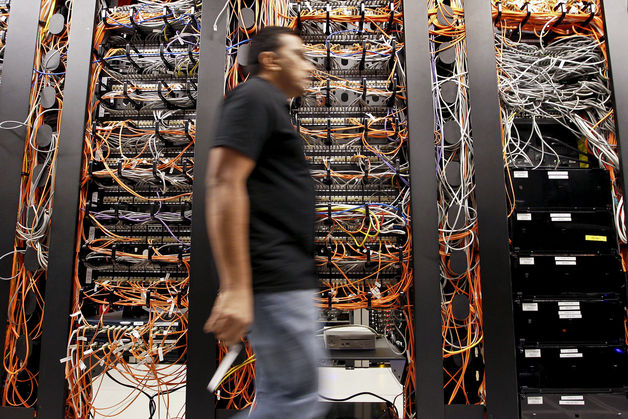 Symantec's stock has declined 1.7 percent this year, compared with a 4.7 percent gain in the Standard & Poor's 500 Index. The company has a market capitalization of $16 billion.
Deal Wave?
Symantec has explored and dropped the idea of a split in the past, said one person with knowledge of the matter. The new CEO, Michael Brown, supports a breakup, the person added.
A breakup may position Symantec's separated businesses as acquisition targets, given that large companies including EMC Corp. and Hewlett-Packard have been interested in the stand-alone security business or in an independent storage business, said one person with knowledge of the matter.
Sarah Pompei, a spokeswoman for Hewlett-Packard, declined to comment. Dave Farmer, a spokesman for EMC, didn't immediately return a call seeking comment.
Onetime Pioneer
Symantec helped pioneer anti-hacking technologies in the 1990s, with its Norton Antivirus programs once prevalent on PCs. Yet Symantec has increasingly fallen out of step with the security industry. Recent data breaches at JPMorgan and Target Corp. underline how current technologies haven't been able to prevent professional hackers from breaching systems.
In 2005, Symantec acquired data-storage maker Veritas Software Corp. for $10.2 billion. Since then, several Symantec CEOs have confronted the issue of whether to split the company. Enrique Salem, who was CEO from 2009 to 2012, and Steve Bennett, who was CEO from 2012 to March 2014, both said they wouldn't break up the company.
Bennett was fired in March after sales growth continued to decelerate. The board -- which has as its chairman Dan Schulman, who is president of PayPal as it is being spun off from EBay -- then conducted a six-month search for a successor. In September, Symantec appointed interim chief Brown to the position on a permanent basis.
"We are focusing our investments in businesses where demand is greatest and improving operational efficiencies to grow revenue and operating margin," Brown said in a statement at the time. "I look forward to continuing to focus the company's strategy to deliver for our customers and our shareholders."
http://www.bloomberg.com/news/2014-10-07/symantec-said-to-ex...