Below was an earnings preview on Kinder Morgan. The pipeline giant greatly exceeded my dividend forecast expectations "after announcing plans for an $0.80/share dividend for 2018, a 60% increase, beginning with next year's Q1, and rising to $1.00/share in 2019 and $1.25 in 2020." (source) KMI will now be added back to the portfolio of stocks under coverage.
$KMI
, KINDER MORGAN INC / H1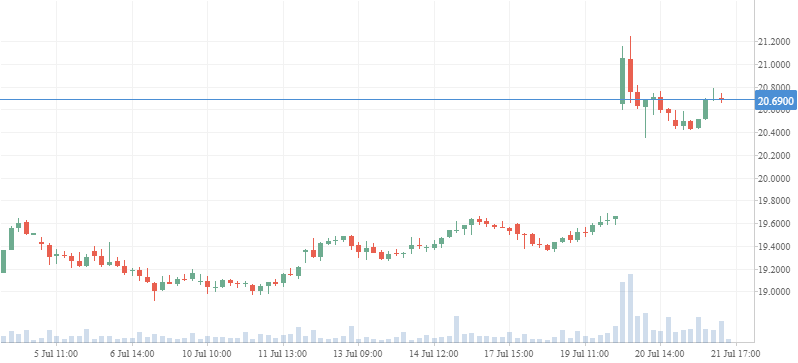 Earnings Preview: Kinder Morgan (KMI)
Distributable cash flow is the key number investors will look at when Kinder Morgan (NYSE:KMI) reports second quarter results on Wednesday, July 12. In the last quarter, the company made $0.54 a share in cash flow, which is enough to meet its full-year guidance of $0.50 per share in dividends. Though oil prices fell during the quarter, its impact on revenue is small. Natural gas prices trended lower, so this may foreshadow a slight miss for Kinder Morgan's quarter.
Summary of First Quarter
Kinder Morgan reported DCF per share of $0.54 that beat its guidance given at the beginning of this year. It kept its full-year outlook unchanged. The company ended the quarter with a 5.3x net debt to EBITDA. KMI has $37.8 billion in net debt but it cut that down by $317 million in the first quarter. It sold assets worth $462 million, with the Elba JV contributing to most of it (at $391 million).
Expectations
Natural gas prices fell from the $3.30 - $3.50 range in May to under $3.00 in the last month. If KMI grew sales in the quarter, that may offset the effect of lower energy prices. Despite the volatility in the energy market, Kinder will likely commit to its nearly $3.2 billion in growth projects for the year. As long its net debt to adjusted EBITDA ratio is no higher than around 5.4 times, it will spend its quarterly cash flow on projects. If the company reports an improved debt ratio profile in the second quarter, KMI stock may respond by continuing its rebound from the $18.31 low reached last month in June.
Kinder's capital expenditure spending makes strategic sense in this weak energy market. It continues to spend only cash flow from operations. Cutting the dividend, lowering the debt, and selling assets will allow the company to avoid capital markets. Shareholders do not need KMI selling stock or raising debt to fund its projects.
Improving Cash Flow
Kinder could report good cash flow in the second quarter if it controlled its project spending and sold more natural gas than markets expected. It may even beat the $4.6 billion cash flow forecast for 2017. Next year, cash flow could improve to around $4.9 billion if natural gas prices improve throughout the course of the year. The strong cash flow would leave $1.00 per share in dividends at a cost of $2.5 billion (including the preferred shares). KMI would have $2.4 billion for making capital expenditures.
By 2019, many new projects will come online. If investors assume energy prices don't worsen, Kinder Morgan will be well-positioned to raise its project budget and increase its dividends.
Watch Trans Mountain Project
KMI raised its cost estimate for the Trans Mountain Project last quarter, from C$6.8 billion to C$7.42 billion. Investors will be keen to get the details of the financing for the project in Q2. When the project is complete, it will output 708,000 barrels. In the meantime, the development time for the project is long. It involves multiple trucks spanning over many miles. Conversely, KMI's Elba project is less complex. Elba is a self-contained site and has an EPC contract signed. Fortunately, Trans Mountain has long-term contracts signed over 20 years. Once it is complete, the shipment will add to Kinder Morgan's steady cash flow.
Related: TransCanada Pipelines (TRP)
Takeaway
KMI stock should not move much when it reports quarterly results. It is too early in the company's restructuring progress to raise dividends. But when projects come online and energy prices improve, a higher dividend yield will come for patient shareholders.