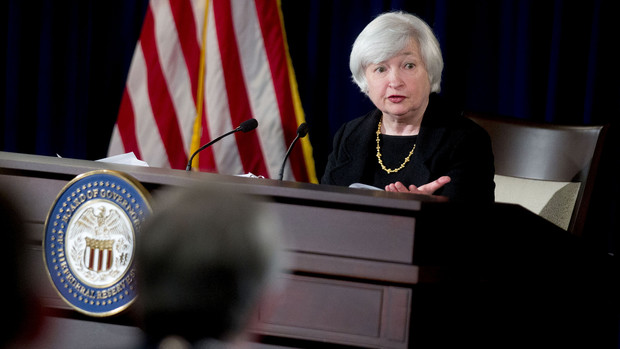 Federal Reserve Chair
Janet Yellen
says she wants investors to be prepared for the possibility that the Fed will raise interest rates sooner than they currently project. Her words are going unheeded.
Volatility across stocks, bonds and currencies worldwide is close to record or multi-year lows, even after Yellen cautioned last week that the Fed's commitment to keep interest rates near zero for a "considerable time" could change if U.S. economic performance continues to exceed expectations.
This absence of wide swings in trading values reflects investor complacency about the central bank's intentions -- and may be too much of a good thing for its policy makers as they consider retreating from years oflow-rate pledgesthat suppressed borrowing costs and fueled a recovery from the worst recession since the Great Depression.
The danger: unexpected economic strength may speed up the timetable for tighter Fed policy, prompting a sudden surge in volatility that could jeopardize the expansion.
"The risk is that the Fed ultimately does tighten policy in the way that it's expecting and is communicating, and markets have to adjust up very quickly in a disorderly way," saidLaura Rosner, a U.S. economist at BNP Paribas SA in New York and a former New York Fed researcher.
Bank of America'sMOVE Indexof Treasury swings fell to 57.43 yesterday, close to its lowest level in data since 1988. The Chicago Board Options Exchange Volatility Index, which measures swings in stocks, was at14.93, compared with a 20-year average of 20.75. The JPMorgan Global FX Volatility Index was at7.38 percent, still near a record low of 5.29 percent in July and down from a 20-year average of 10.46 percent.
'Considerable Time'
Contributing to the markets' quiescence is the Fed's decision at last week's meeting to retain assurances that the benchmark interest rate will stay low for a "considerable time" after the central bank ends a bond-purchase program intended to spur growth. And once the rate is raised, investors are projecting a slower pace of increases than the Fed itself.
Fed officials began to rely on forward guidance to keep yields low in short-term debt maturities after cutting the federal funds rate almost to zero in December 2008. Bond purchases, which have pushed down long-term yields, were another easing tool.
Now, withunemploymentdown to 6.1 percent from a 26-year high of 10 percent in 2009, the Fed is planning to end bond purchases after its October meeting. The Fed's estimate for full employment, one of its policy goals, is 5.2 percent to 5.5 percent.
First Increase
Officials, who project the fed funds rate will rise next year for the first time since 2006, are debating a change to their forward guidance. The rate represents the cost of overnight loans in the interbank market.
While policy makers retained the language this month, Yellen used her post-meeting press conference to assert that the Fed's guidance depends on how the economy evolves.
"It is important for markets to understand that there is uncertainty and that the statement is not some sort of firm promise about a particular amount of time," Yellen said.
If economic performance trails expectations, rates will stay low for longer, she said. If it's better than forecast, rates could rise more quickly.
Other officials have reinforced that message.
St. Louis Fed PresidentJames Bullardsaid yesterday that the Fed may need to drop its pledge next month.
"I don't think it is state-contingent enough," said Bullard, who will have a vote on policy in 2016. "I would like to get the committee to move to something that is more data dependent."