Buyers drew a line in the sand after sellers tried to put a negative spin on the April U.S. jobs report. T2108, the percentage of stocks trading above their respective 40DMAs, dipped as low as 55.4% before closing at 61.7%. More importantly, the S&P 500 (SPY) broke below its 50-day moving average (DMA) before closing near its highs for a 0.3% gain. That tiny gain was the most important gain in what has become 6-weeks and counting of churn. The small intraday bounce happened right at the bottom of this churn.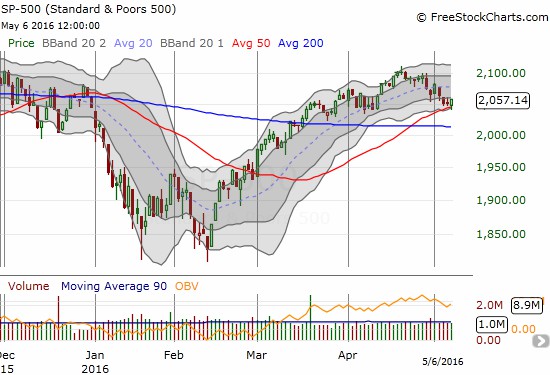 With this successful test of 50DMA (and range) support, my conviction on my bearish call weakens a bit. That conviction is even more wobbly after I closed out a series of successful bearish trades to start the week only to fail at all my bearish trades to end the week.
The volatility index, the VIX, flipped below the 15.35 pivot and no longer looks poised to launch higher. So, volatility comes off the wall of potentially bearish signs.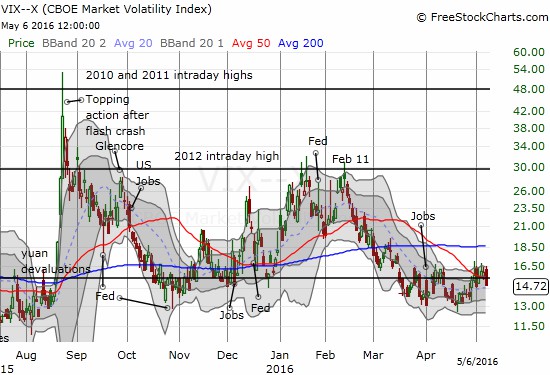 While the case for the bears is less convincing, the case for the bulls is only slightly better. I cannot return to the bull until/unless T2108 returns to overbought status. Such a move would demonstrate a return of buying power to the market. However, I would still tread carefully if an overbought period began with the S&P 500 right under or at its recent high. So, T2108 is once again very useful for signaling trades and sentiment. T2107, the percentage of stocks trading above their respective 200DMAs, gained fractionally. Like T2108, this indicator is in a downtrend from recent highs.
Caterpillar (CAT), my favorite hedge against bullishness, cracked 50DMA support this week and added to my bearishness at the time. I took advantage of today's rally to enter into put options that expire in August. I am assuming confirmation of CAT's breakdown – a subsequent breakdown below the 200DMA – will take some time…unless of course sellers get serious again.
How did you like this article? Let us know so we can better customize your reading experience. Users' ratings are only visible to themselves.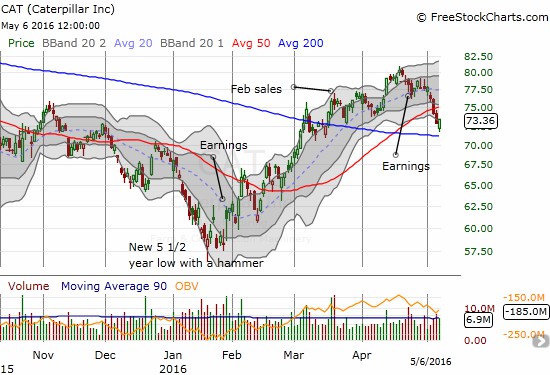 The iShares Nasdaq Biotechnology ETF (IBB) was the biggest disappointment of the week. IBB failed to hold support at its 50DMA and...
More