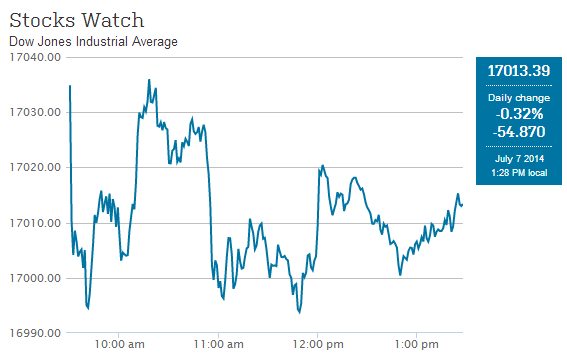 Stocks eased Monday, as investors paused following last week's push to record highs.
The Dow Jones Industrial Average fell 58 points, or 0.3%, to 17009 in midday trade, briefly slipping under 17000 shortly after the opening bell. The S&P 500 declined 9 points, or 0.5%, to 1976. The Nasdaq Composite Index shed 30 points, or 0.7%, to 4456.
The pullback comes as investors took a breather one session after major indexes hit record highs, boosted by a stronger-than-expected report on the U.S. labor market. The Dow advanced 1.3% last week, getting a final push above 17000 on Thursday after the Labor Department's monthly jobs report showed the U.S. added 288,000 jobs in June, beating expectations of a gain of 215,000. Markets were closed Friday for the Fourth of July holiday.
Investors say they are increasingly focused on the coming start to the corporate-earnings season for signs that stocks can sustain their current highs.
Alcoa is scheduled to report second-quarter results Tuesday, heralding the unofficial start to the second-quarter earnings season.
"What took this market up from 1500 to 2000 [in the S&P 500] was that investors have decided that maybe we've entered a more sustainable growth rate," said Jim Paulsen, chief investment strategist at the $350 billion fund manager Wells Capital Management. "When I look at the second quarter I want to see some evidence of sustainability."
Earnings among companies in the S&P 500 are expected to rise 4.6% in the second quarter, after posting a more modest 2.2% climb in a first quarter dampened by the harsh winter, according to FactSet.
MarketWatch's Victor Reklaitis joins Simon Constable on the News Hub to discuss the Dow closing above 17,000 and the S&P closing at record levels, nearing 2,000. Plus a look at Thursday's jobs report and stocks to watch today. Photo: Getty
There were no major economic reports due Monday. Later this week, investors are expected to parse the minutes from the Federal Reserve's rate-setting committee on Wednesday for signals on when the central bank could begin to lift interest rates.
Stocks have spent much of the spring and early summer marching steadily higher, buoyed by a string of positive economic data and relative clarity around central-bank policy. The S&P 500 is up 7% so far this year.
Scott Armiger, chief investment officer of Christiana Trust, which manages $9 billion, said he is concerned whether corporations can keep pushing earnings higher given that profit margins are already so high. "Things are as good as they get here," he said. Mr. Armiger said he remains parked in dividend-paying stocks and other defensive corners of the stock market, which "will hold up better if the market corrects."
Last week's stronger-than-expected jobs report could add to expectations that the Fed will raise rates sooner than expected. Still, there are enough items in the report, including wage growth, that aren't yet strong enough to rush the Fed, said Chuck Self, chief investment officer for iSectors, which oversees $150 million.
In corporate news, Archer Daniels MidlandADM +1.91% on Monday agreed to buy WILD Flavors GmbH, a Swiss food-ingredients maker, for €2.2 billion ($2.99 billion). Shares of ADM rose 1.7%
Shares of American Apparel APP +3.63% rose 3.4% after The Wall Street Journal reported the clothing company is in talks to raise new financing from hedge fund Standard General that would allow the company to pay off a loan that came due after it ousted founder Dov Charney.
Shares of BioDelivery Sciences jumped 10.8% as the pharmaceutical company, along with Endo Pharmaceuticals ENDP -2.21% PLC, prepared to meet with the U.S. Food and Drug Administration over a potential new application for pain drug BEMA buprenorphine.
Gold dropped 0.4% to $1,315.80 an ounce, while crude-oil futures slipped 0.7% $103.38 a barrel.
The yield on the benchmark 10-year Treasury note was unchanged at 2.617%.
Weaker-than-expected German industrial data weighed on European stocks, with the Stoxx Europe 600 down 0.9%. Germany's DAX waned 1%, after data showed that industrial production in the country declined in May at the sharpest rate since April 2012, weighed by a fall in both manufacturing and construction output.
Lackluster data from the euro zone is likely to reaffirm the European Central Bank's currently dovish policy stance. Last week, the ECB council kept its main lending rate at 0.15% and maintained a -0.1% rate on bank funds deposited with the central bank.
Sourse: Wall Street Journal