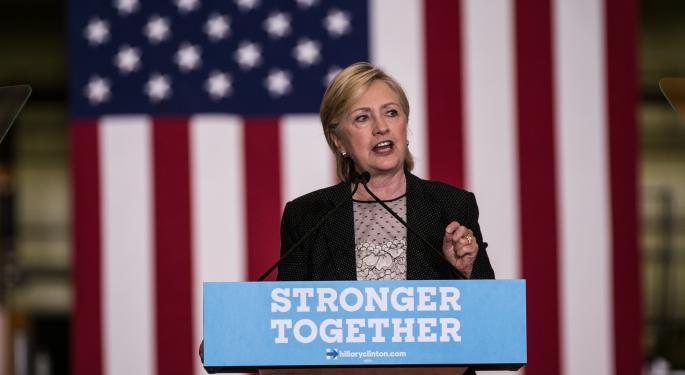 This weekend's Barron's anticipates which stocks will be the winners and which the losers if each presidential candidate wins.
Five European stocks with generous but safe yields are also examined.
Other featured articles ponder the prospects for an operator of seniors residences and an American broadcasting company.
"Hillary Rising" by John Kimelman suggests that the first female American president would be a good thing for U.S. stocks overall. Alternative-energy and hospital stocks in particular, and even defense stocks, could prosper under a Clinton administration. On the other hand, fossil fuel and financial shares could take a big hit. See how General Electric Company GE 0.16% and other U.S. multinationals could fare.
In companion article "Winners and Losers in a Trump Market," John Kimelman points out that if Donald Trump can around turn his campaign and win the White House race, then Big Pharma, biotech, energy and defense stocks could be set to prosper. Still, Barron's admits, there is a strong case to be made that most stocks would falter under a President Trump, at least in the short run.
Related Link: Everything Donald Trump Has Said About The Economy In His First 100 Days As Nominee
Andrew Bary's "5 Safe European Stocks With Yields Up to 5%" makes a case that as European shares tend to yield more than their counterparts in the United States, the likes of Novartis AG NVS 0.87% and Vodafone Group Plc VOD 0.06% are worth a look now. The selected stocks all offer yields ranging from 2 percent to 5 percent.
The market for senior living centers will grow 40 percent by 2020, says the CEO of Brookdale Senior Living, Inc. BKD 0.12% in "Brookdale Could Rise 30%—Or More" by Jack Hough. After collapsing last fall, the stock has begun to recover as management has shown a newfound urge for self-improvement. Is it too early to bet on Brookdale's comeback? Does the stock look cheap now?
In David Englander's, "E.W. Scripps: A Deeply Undervalued Broadcaster," the focus is on how a disappointing outlook for this year's political ad revenue masks strong longer-term prospects for E. W. Scripps Co. SSP 1.2%. See why Barron's feels renegotiating retransmission fees and bolstering its digital presence could benefit the Cincinnati-based media enterprise.
Also in this week's Barron's:
The return of the Keynesians
The 12th annual Barron's Art of Successful Investing conference
Whether technology and health care are on the mend
The hidden trading costs of exchange traded funds (ETFs)
What a top dividend growth fund does differently
How to squeeze yield out of rising Libor rates
At the time of this writing, the author had no position in the mentioned equities.
Keep up with all the latest breaking news and trading ideas by following
http://twitter.com/Benzinga
on Twitter.
© 2016 Benzinga.com. Benzinga does not provide investment advice. All rights reserved.