Retail Sales m/m April: 0.1%
March: 1.5% (revised up from 1.1%)
Forecast: 0.5%
Core Retail Sales m/m April: 0.0%
March: 1.0% (revised up from 0.7%)
Forecast: 0.6%
April retail sales numbers in the US disappointed, but there is still growth and the March numbers were apparently better than first calculated.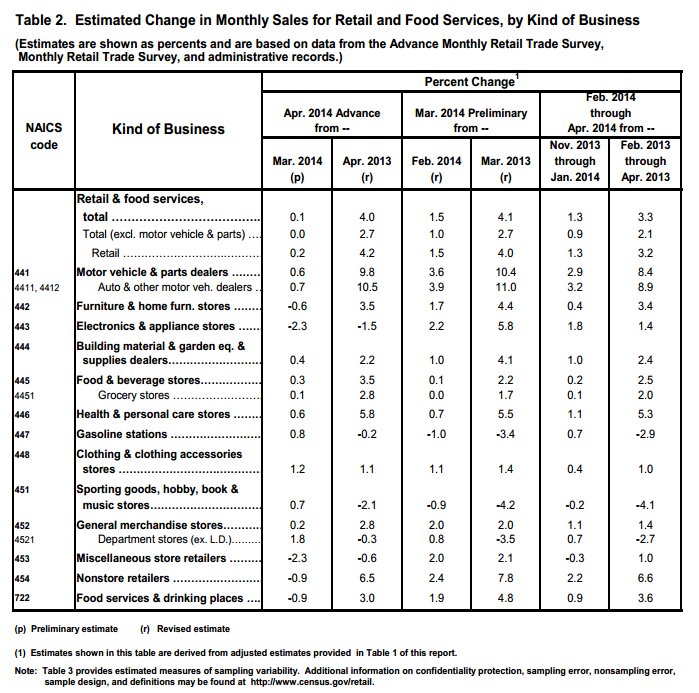 (click to enlarge. source:
US Census Bureau
)
The breakdown shows that most of the main components saw growth, the most noticeable one being from the motor vehicle and parts dealers, at 9.8%. Sporting goods, hobby, books and music stores slid the most at -2.1%.
USD/JPY
dipped following the data release.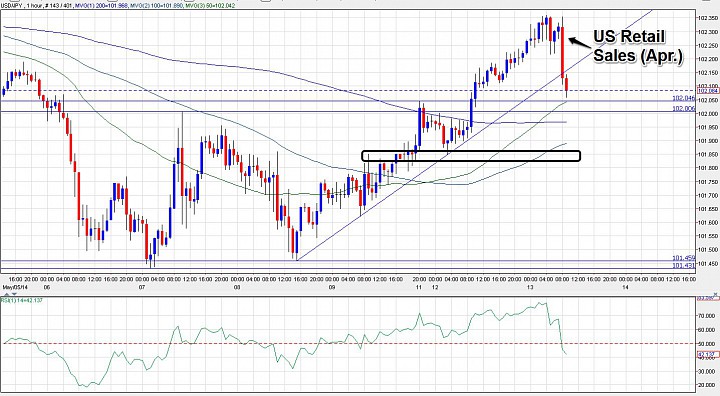 (usdjpy 1h chart, 5/13)
Reaction:
The 1h chart, shows a bearish reaction to the disappointing US data, but within the context of a short-term bullish attempt from last week's low of 101.43. In the 1H chart at least, the market seems to be turning from bearish to neutral and now to bullish, only to be stalled after this poor data.
Buy on Dip?
From the bullish perspective, this dip can provide some buying opportunity as the 1H RSI nears 40, and price approaches a previous resistance area that can be seen as support around 102-102.05.
Below 102, there is another support pivot at 101.80.
Bearish Outlook:
Below 101.80, and if the RSI dips below 20 in the 1H chart, the bullish outlook might need to be shelved for this week. Last week's support around 101.45 will be in focus, with further downside risk in mind because the prevailing short-term trend before this week's rally, was bearish as seen in the 4H chart: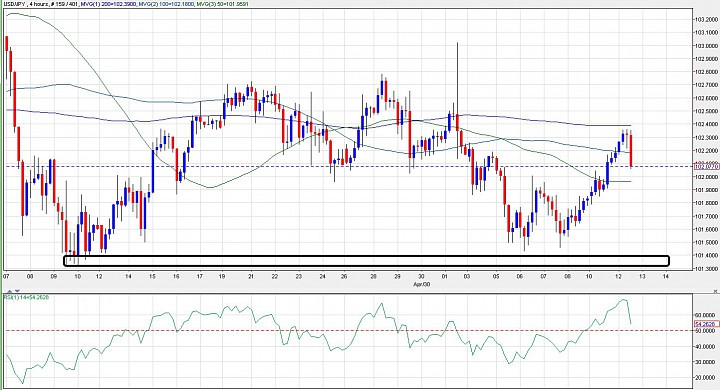 (usdjpy 4h chart, 5/13)
Neutral-Bearish:
The 4H chart shows a sideways market with a slight bearish bias because price is holding mostly below the moving averages and today's price action so far looks heavy.
However, if risk sentiment remains elevated, and the US stock indices continue to make fresh record highs, key support areas for USD/JPY should be respected.
Downside Targets/Support Levels:
The downside risk is first to the
101.45 support, then
101.31 support pivot, then
100.75 (2014-low) - should be ultimately respected unless stocks start to slide significantly.