It has been a cruel summer, with lots of leverage, for Bill Ackman and his Pershing Square hedge fund.
After starting off the year with an AUM of $18.3 billion following a solid 2014 in which Pershing Square returned 40% mostly on the back of Ackman's aggressive - and questionably illegal - activism involving Valeant, payback arrived with a levered vengeance, and after rising 10.1% through the end of July, pushing Ackman's AUM to $20.2 billion, the past two months have been absolutely brutal for the last remaining "prominent" hedge fund manager (we profiled the performance of some of his key peers: David Einhorn, Dan Loeb and Barry Rosenstein yesterday).
Ackman may have hoped the pain would end in August when the fund lost nearly $2 billion in AUM, sliding 9.2% net, but Setpember was a total bloodbath, and saw Pershing Square report one of its worst quarters in history outside of the financial crisis, tumbling by 12.5%, bringing the total loss over the past two months to a whopping -22%, the YTD drop to -12.6%, and the firm's AUM to $16.5 billion, a loss of nearly $4 billion in just the past two months, and the lowest it has been since early 2014.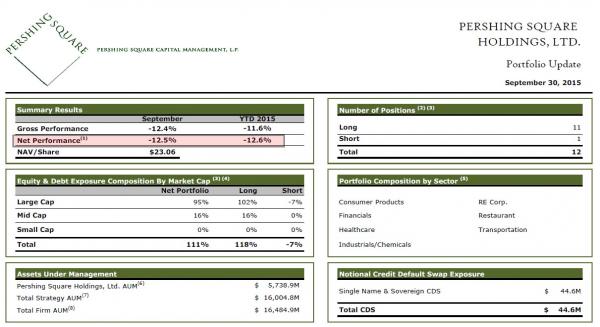 And while virtually every stock of the fund's 11 long holdings tumbled in September (anywhere from Zoetis to Platform Specialty Products), it was the 23% plunge in Ackman's biggest holdings, Valeant where he owns nearly 20 million shares, that was mostly responsible for the collapse. The decline would have been even worse had it not been for the September 30 window dressing in VRX shares, which soared on nothing but month-end book marking.
The short end of Ackman's book is not helping either. Pershiing Square is short just one company: Herbalife, which is up 44% in 2015.
And just like hedge fund luminaries like Leon Cooperman blamed Ray Dalio's Bridgewater for the August rout, we expect Ackman will blame none other than Martin Shkreli who did not make many friends with his bursting of the biotech bubble in the last two weeks of September.
Source: Pershing Square