On Sunday, we saw a Gulf market meltdown with stocks falling 7% in Saudi Arabia and 5% or more in the United Arab Emirates and Qatar. The steep declines came on the heels of Friday's horrific selloff in US markets and presaged the carnage that would begin to unfold hours later when Asian bourses opened for trading for the week. 
As Brent continued to slide, the selloff in Mid-East markets continued unabated on Monday with Saudi Arabia's Tadawul All Share Index dipping more than 6%, hitting levels last seen in May of 2013. 
Brent: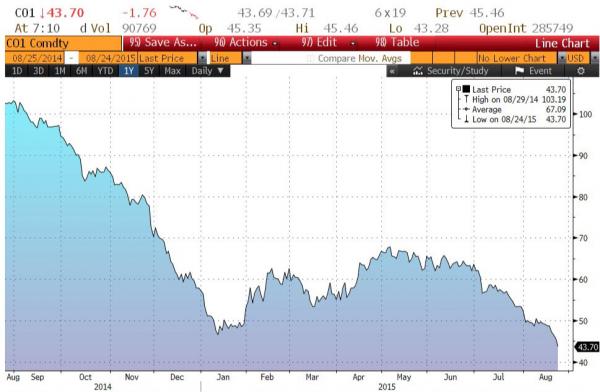 Saudi Arabia: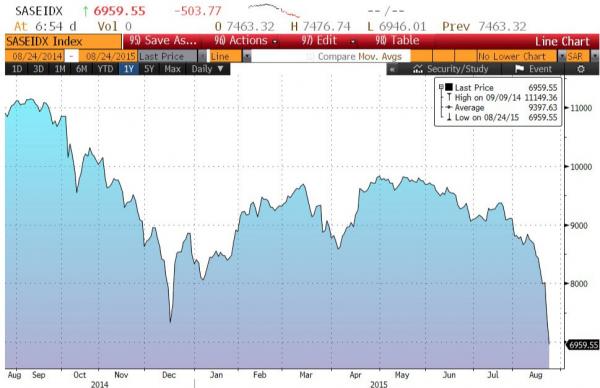 UAE: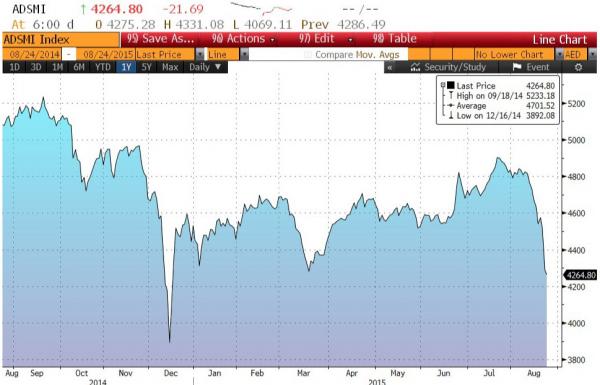 Qatar: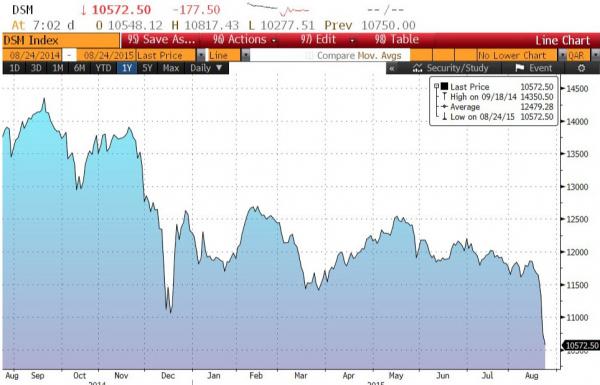 "Oil just can't stop sliding and local investors are very worried about where the bottom is and how long regional economies can take the battering," one asset manager in Abu Dhabi told Bloomberg, who reminds us that "Middle Eastern stocks had their worst day of the year on Sunday after Saudi Arabia's index of equities sank more than 20 percent from a peak in April."
And more: 
In Dubai, stocks declined 1.4 percent to 3,401.62 after plunging as much as 6.1 percent.

The gauge could fall below 3,000, "and if that happens, it will be a severe jolt," Nabil Rantisi, the managing director of brokerage at Mena Corp. Financial Services, which has a client deposit base of 6.8 billion dirhams ($1.85 billion), said by phone from Dubai. "It's a scary scenario."

 
Yes, scary indeed. And as WSJ alluded to on Sunday when, just hours after we reminded the world that this latest bout of carnage across global markets all started with the demise of the petrodollar, it noted that "petrodollar-dependent Persian Gulf [states] depend on energy exports to finance their expansionary spending plans at home, the weak outlook for oil further aggravated a recent sell-down of risk in the region."
Put simply, if oil prices stay low - and they likely will, as revenue maximization for the Saudis still looks to be outweighed by the desire to wrench every last bit of market share away from US shale drillers by bankrupting the entire space - the region's fiscal situation will only deteriorate, triggering further pressure on petrodollar reserves, making the pegs in Saudi Arabia and the UAE increasingly unsustainable, and ultimately forcing the Saudis into the debt market to mitigate the FX reserve drawdown. 
All of this will have an adverse impact on credit worthiness (see Fitch's move to cut its outlook for the kingdom) which could trigger further flows out of the country and so on and so forth in a very non-virtuous circle, just months after Saudi Arabia's historic move to open its stock market to foreign investment. 
And as the pressure mounts on asset prices so too will the pressure mount for fiscal retrenchment and you can believe that reining in the quality of living in these states will come at a tremendous social and political cost.
Perhaps Al Masah Capital said it best: "regional buyers need a lot of conviction to step in front of this speeding train [especially] in context of a rapidly changing economic environment."
Summed up in one picture: