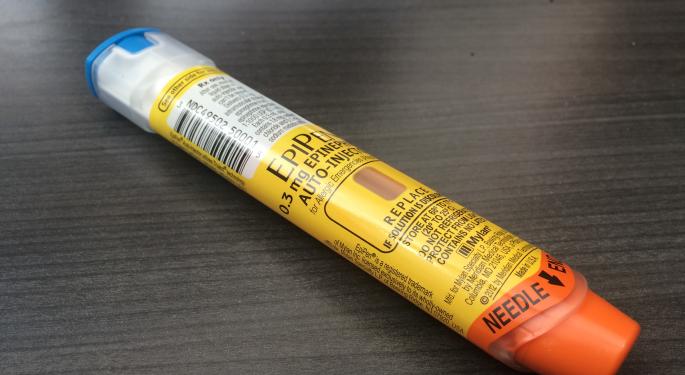 Mylan NV MYL disclosed that its American unit would unveil the first generic to EpiPen Auto-Injector at a cost of $300 per two-pack carton. This represented a discount over 50 percent to its list price or wholesale acquisition cost of the branded medicine.
The company clarified that the generic would be similar to the branded product. This included drug formulation and device functionality. The drug maker expects unveiling of the generic product as quickly as possible once it completes the labeling revisions. The product would be available in 0.15 and 0.30 mg strengths and in a two-pack carton.
Related Link: Mylan Is Offering An EpiPen Savings Card, But A Lot Of People Will Still Get Screwed
Mylan CEO Heather Bresch said, "We understand the deep frustration and concerns associated with the cost of EpiPen to the patient, and have always shared the public's desire to ensure that this important product be accessible to anyone who needs it. Our decision to launch a generic alternative to EpiPen is an extraordinary commercial response, which required the cooperation of our partner."
The company disclosed that its earlier announcement of augmented patient assistance program and $300 savings card would remain in place for the brand product. The saving card would act as cash at the pharmacy.
In the pre-market trading on Monday, the stock traded up by $0.52, or 1.51 percent, to $43.55.
© 2016 Benzinga.com. Benzinga does not provide investment advice. All rights reserved.