Bitcoin was bearish in August, but after a rebounding from around 200 at the end of that month, price started consolidating in September as we can see in the 4H chart. Let's review the key bullish signals throughout this consolidation and into the current upswing. 

BTCUSD 4H Chart 10/17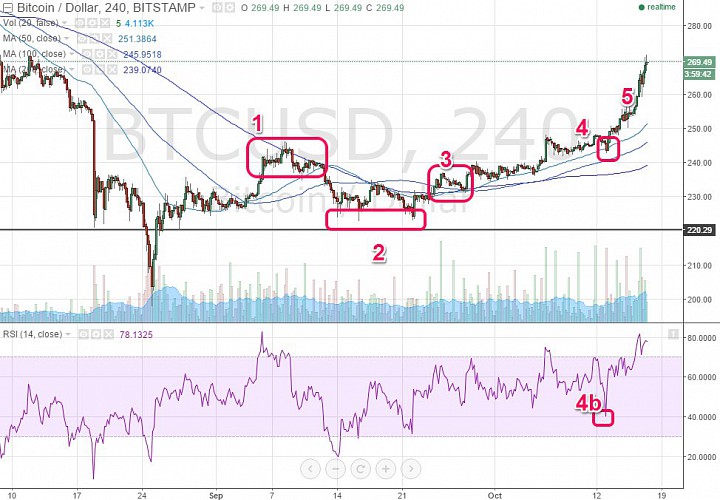 (click to enlarge)

We start before (1), when price made a price bottom structure and pushed the RSI above 70. However ,as we can see in (1), price held below the 200-period simple moving average. That showed the resistance of bears in this market. 

(2) After a pullback, price held above a common support pivot at 220. The fact that price did not dig back down to 200 showed that the market might be developing some bullish bias. At this time, the RSI reflects a sideways market, swing from above 70 to below 30 and back and forth. 

(3) Here price action was still within the large context of consolidation. Still price pushed above another price bottom and above the cluster of 200-, 100-, and 50-period simple moving averages. After the crossover, price came back down but bounced off these SMAs. This is call a bullish sling-shot. 

(4) Price continued to hold above the cluster of moving averages, reflecting a bullish market. (4b) The RSI came down to 40 and bounced back up. It now reflects development of bullish momentum. 

(5) Finally, price cleanly broke above the September high and resistance pivot, extending the bullish outlook further in the short-term.

The 300-320 area will be full of resistance factors going back to the beginning of the year. The daily RSI is also around 80. These might be reasons to limit our bullish outlook to 300-320 for now. A break above 320 however would bring the virtual currency to a bullish outlook in the medium term.