Automakers reported the best two-month stretch of U.S. sales in 15 years, another sign that the nation's economy is improving.
General Motors Co. and Fiat Chrysler Automobiles NV were among manufacturers posting October results that topped analysts' estimates after a robust September, with the continued popularity of expensive trucks and luxury sport utility vehicles showing that buyers are willing to spend. Ford Motor Co. and Honda Motor Co. fell short of predictions.
The burgeoning demand for autos is adding to evidence the U.S. economy is strengthening as the Federal Reserve prepares to raise interest rates as soon as next month. Sales are surging as job growth, available credit and affordable fuel encourage shoppers to replace aging models, especially with sport utility vehicles.
"The consumer is driving this," Jeff Schuster, an analyst for LMC Automotive, said in an interview. "You have a consumer who feels good about the economy, who wants a new vehicle and who has the means to get it with relatively cheap credit. Everything is aligning."
The annualized selling rate, adjusted for seasonal trends, was 18.2 million, the same as in September, according to Autodata Corp. That was the first time that the pace exceeded 18 million in back-to-back months since February 2000. That's the year the industry set a sales record of 17.4 million. Analysts' average estimate was for an October sales pace of 17.7 million. September's rate was the fastest in more than a decade.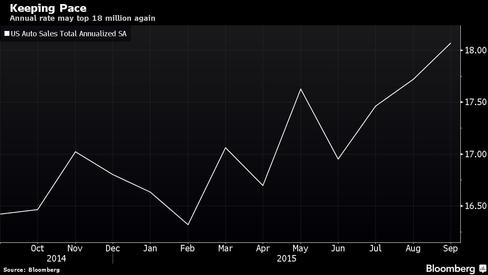 All of the major automakers, except Volkswagen AG, which is mired in a diesel-emission scandal, were projected to report October increases. Toyota, with the smallest of those projected gains at 8.5 percent, said that its sales rose 13 percent with SUV sales rising 20 percent at the namesake brand and 34 percent at the luxury Lexus division.
Combined sales of Volkswagen and Audi rose 5.8 percent, compared with a...
More