The EUR/JPY pair found resistance at 1.38 last week. Since then, it has been forming what appears to be a head and shoulders pattern, one that is slightly tiled. To start this week, traders completed the head and shoulders, holding an early rally below 137.90 to form the right shoulder and falling sharply below 137.50 to clearly break below the neckline. You are also seeing the RSI dip to 30, below which the market would be oversold in the near-term, but would have established bearish momentum for the short-term. 

EUR/JPY 1H Chart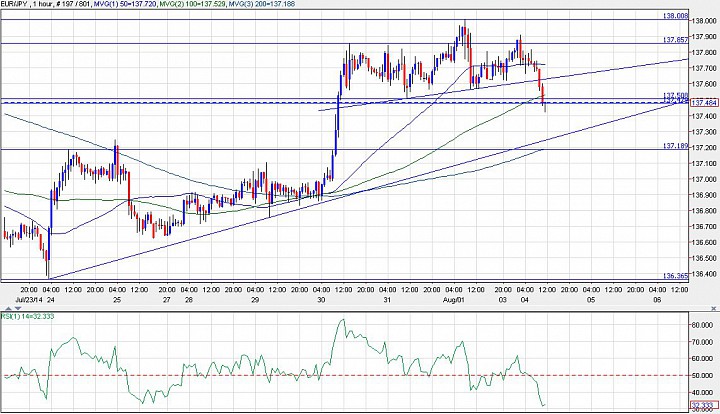 (click to enlarge)
The immediate support will be in the 137.20 area. reinforced by a rising trendline and the 200-hour SMA. We are likely to see a bounce from this area, but if the market has started to turn bearish for the short-term, we should look for two things
1) Price to hold below 137.60.
2) The 1H RSI to hold below 60.

If this happens, the downside risk for this week could be 136.36. A break back above 137.70 however suggests further short-term bullish outlook after a near-term bearish correction.

The 4H chart shows how important that 137.20 area is. You can see that there was a bigger inverted head and shoulders formed since mid-July. However you also see that the market is within a bearish trend. There are more bearish signs vs. the 1 bullish sign in the 4H chart: (inverted H&S completed with price popping up and pulling the RSI to 70). The bearish signs include the alignment of the moving averages, and the fact price is holding below the 200-period SMA. 


EUR/JPY 4H Chart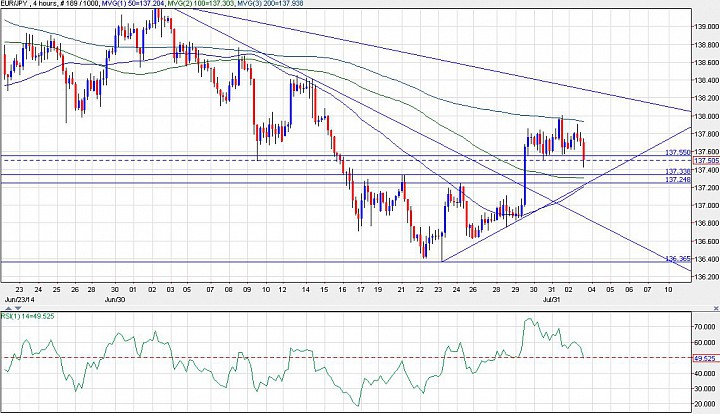 (click to enlarge)

With more bearish bias than bullish, a break below 137.20 could be a sign of bearish continuation with downside risk not only limited to the 136.36 low, but perhaps toward the 136 mark or lower.