It wasn't just millions of Democrats that were left 'triggered' by Trump's pardon of Sheriff Joe Arpaio over the weekend as several prominent Republicans, including John McCain, Jeff Flake and Paul Ryan, also decided to take a very public stand against the decision. Both McCain and Flake took to twitter to blast Trump's apparent lawlessness while Arpaio responded in weekend interviews saying "it's sad" the Republicans continue to "go after the President." Per the Wall Street Journal:
"They're trying to go after the president. He's a great guy and I'm with him and will always be with him," said Mr. Arpaio, a longtime sheriff in Maricopa County, Arizona, in an interview Sunday. "I'm sad what they're doing to him. It's sad."

Several prominent Republican lawmakers objected to the pardon over the weekend, saying it short-circuited the legal system and undermined the rule of law. Among the critics of Mr. Trump's move were Arizona's two GOP senators, John McCain and Jeff Flake, and House Speaker Paul Ryan of Wisconsin.

Mr. Arpaio voiced disappointment in Mr. McCain's position, saying, "It's probably payback time" because Mr. Arpaio had campaigned for the senator's Republican opponents in both of Mr. McCain's presidential bids. As for Mr. Ryan, Mr. Arpaio said, "He ought to get on board and support our president." Sen. McCain's staff didn't respond to a request for comment.

If lawmakers are upset about the pardon, Mr. Arpaio said, they should hold hearings into his legal case and look into the "bias" that he said he was shown.
.

https://twitter.com/POTUS

's pardon of Joe Arpaio, who illegally profiled Latinos, undermines his claim for the respect of rule of law https://t.co/2FckGtwQ2m

— John McCain (@SenJohnMcCain)

https://twitter.com/SenJohnMcCain/status/901276851561222144
Regarding the Arpaio pardon, I would have preferred that the President honor the judicial process and let it take its course.

— Jeff Flake (@JeffFlake)

https://twitter.com/JeffFlake/status/901249192257101825
Speaker of the House Paul Ryan also decided to weigh in on Trump's blatant disregard for the "rights of everyone in the United States."
Through a spokesman, Mr. Ryan said Saturday he "does not agree with the decision."

"Law-enforcement officials have a special responsibility to respect the rights of everyone in the United States. We should not allow anyone to believe that responsibility is diminished by this pardon," said Mr. Ryan's spokesman, Doug Andres.
Meanwhile, perhaps the only person actually defending the Arpaio pardon on the weekend talk show circuit was Arizona state Senator Steve Montenegro who blasted the "hypocrisy of the left" for forgetting that it was Obama who pardoned and commuted the sentences of more hardened criminals than any president in history.
"What's on display here is frankly the hypocrisy from the left," Arizona state Sen. Steve Montenegro, a Republican, said on CNN's "State of the Union."

"We had President Obama pardoning hundreds of thugs... Where was the outrage from the left when he was pardoning thugs and murderers and unrepentant terrorists like that?" Mr. Montenegro said.
Of course, Montenegro seems to have a point...here is how Obama's acts of clemency stack up against other Presidents...can anyone spot the outlier?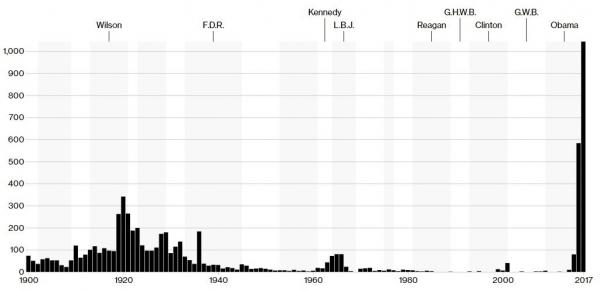 Ironically, Obama's commutations and pardons weren't blasted by the media...they were celebrated.
BREAKING:

https://twitter.com/POTUS

has now commuted the sentences of 1,715 men and women, more than any president in history. https://t.co/3NRkJnCEy4 pic.twitter.com/j7gCdigJqD

— White House Archived (@ObamaWhiteHouse)

https://twitter.com/ObamaWhiteHouse/status/822171101572767744