Summary
FCX has lost half its market capitalization in 2015, but recovering copper market fundamentals can help the company make a comeback.
Copper prices have increased of late; and the trend is expected to continue as demand for the metal will increase due to higher urbanization, while supply will remain short.
FCX has a strong asset base with close to 90 billion pounds as reserves, and it is taking steps to bring this reserve base into production by developing its mines.
FCX's Cerro Verde expansion will add 600 million pounds to its production next year, indicating that its production will increase remarkably, and that too at lower costs.
FCX's copper production is expected to increase 40% next year, while capex will drop 23% and cash costs will drop 17%, indicating that its cash flow and margins will improve.
Freeport-McMoRan (NYSE:FCX) shares have lost over half their value this year despite the fact that the company has beaten Wall Street's earnings estimates by big margins in the last two quarters. In the recently-reported quarter as well, Freeport posted adjusted earnings of $0.14 per share, outperforming the consensus estimate of $0.07.
But, this was not enough to provide a catalyst to Freeport shares, as its revenue dropped 23% year-over-year due to lower copper volumes and a drop in the average realized price of copper, gold, and crude oil. For instance, Freeport saw a 14% drop in copper price on an year-over-year basis, while gold had dropped close to 9.5%. Additionally, Freeport's crude oil realized revenue dropped to $50.04 per BOE in the quarter as compared to $77.53 per BOE in the prior-year period.
As a result of these challenges, and also the fact that Freeport has a highly-levered balance sheet, the company's performance has taken a hit this year. However, in my opinion, it is high time that investors consider capitalizing on Freeport's drop as it might see an improvement going forward. In this article, I will focus on the company's copper segment, as the prospects of this commodity are slated to improve going forward and Freeport is taking steps to improve its production profile.
Improving copper prospects
So far this year, copper price has declined slightly, as shown in the following chart. However, it is also evident that a recovery is also in progress.
This is a result of improving copper fundamentals as demand for the metal is increasing. Of course, the copper market is still oversupplied, but the good news is that this oversupply will not persist in the long run. I'm saying this because copper consumption is slated to rise in the long run as the metal is used widely across a variety of applications ranging from industrial to electronic and housing.
According to Wood Mackenzie, copper demand is expected to grow 27% to 7.6 million tonnes from 2014 to 2024. This represents annual consumption growth of 2.7% for the next 10 years, as shown in the chart below. However, at the same time, the production from existing copper mines is slated to decline 15%, and Freeport anticipates that a supply shortfall of 10.4 million tonnes will be needed to be filled by way of mine expansions and new projects.
(click to enlarge)

Source: Investor presentation
The increase in copper consumption will be driven by improving demand from countries such as India and China due to higher urbanization. For instance, the Chinese government plans to increase the urbanization rate in the country to 60% by 2020. In comparison, China's urbanization rate at the end of last year was 53%, with 300 million people moving to cities from 1994 to 2014.
The increase in urbanization will lead to higher demand for copper as infrastructure for housing and telecom will have to be built. As a result, it is anticipated that copper consumption in China will grow going forward despite short-term headwinds. Since the country is the largest consumer of copper in the world, and imports 70% of its requirement, copper demand will improve.
Additionally, as already discussed, there will be supply shortfall in the copper market. Hence, due to increasing demand and low supply, copper prices should be able to sustain their newly-found momentum going forward.
A robust copper production profile will be a catalyst
More importantly, Freeport is improving its copper production profile in order to benefit from increasing copper demand. The miner has about 35.6 billion pounds of copper reserves in North America. Additionally, its mines in South America have 31.8 billion pounds in copper reserves, along with 29 billion pounds in Grasberg, Indonesia.
Now, Freeport is making moves to tap this huge resource base and convert it into production. For instance, at Cerro Verde, Freeport has completed over 87% of its development. This project is expected to add an incremental 600 million pounds of copper per year starting next year. The company has already spent $3.5 billion out of a budgeted $4.6 billion on mill expansion at this mine. Freeport expects the mill expansion at Cerro Verde to be complete late this year, and it will become the largest copper concentrating facility around the globe.
More importantly, the expansion in the company's production is anticipated to happen at lower costs. This can be clearly gauged from the following chart:
(click to enlarge)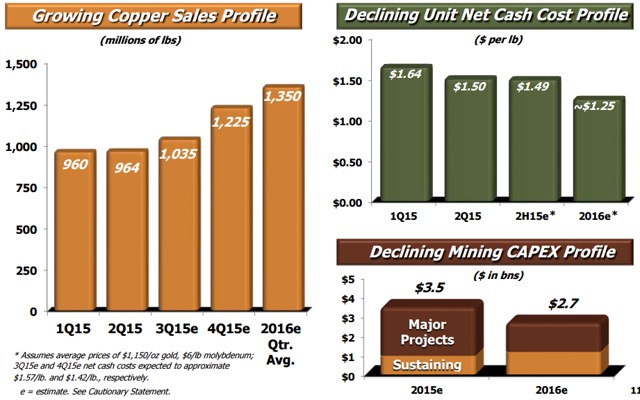 Source: Investor presentation
From the above chart, it is evident that Freeport's net cash costs are expected to decline almost 17% next year as compared to the recently-reported second quarter. At the same time, its capital expenses are also slated to go down 23% in 2016 from this year. Concurrently, Freeport's production is expected to increase 40% in 2016 on a quarterly basis as compared to the second quarter. This indicates that Freeport will be able to improve its margin profile going forward as costs decrease and production goes up.
Conclusion
From the above discussion, it is clear that Freeport's copper business is set for a turnaround. The improving demand-supply dynamics in the copper market, coupled with Freeport-McMoRan's strong production profile will lead to an improvement in its margin profile in the long run. Thus, in my opinion, investors should consider capitalizing on the weakness in Freeport's performance so far this year as it can stage a comeback going forward.
More