Earlier in the year, I noted a bullish development in 3D Systems Corporation (DDD), and wanted to buy on a dip. It drove up above some key resistance factors, including a support/resistance pivot around 10.60. It also pushed above the cluster of 200-, 100-, and 50-day simple moving averages while overtaking the consolidation highs from August-October 2015. 
DDD Daily Chart 5/9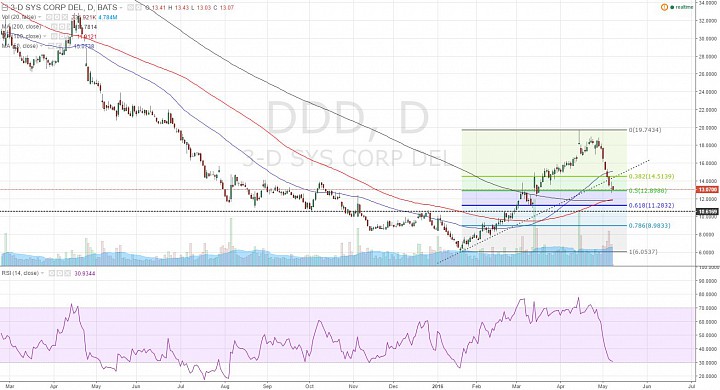 (click to enlarge)
First, it should be noted that from a fundamental standpoint, this stock is performing horribly. 
DDD Stock: Why 3D Systems Corporation Tumbled After Q1 Earnings
Let's look at the market risk than company risk. The S&P 500 seems to be stalling, so that might keep DDD from pushing above 20.00 any time soon. Business risk seems to be negative so far. Therefore, in the short to medium-term, I think we will see DDD pressured. 
Here's the thing, I still want to buy around 10-11. But not if the market is falling towards these levels the way it has the last couple of weeks. If price can stabilize around 10, I would consider buying. This is a psychological level just under some key support factors, such as a support/resistance pivot and the 61.8 fibonacci retracement level.
I think a break below 8 would be a disaster and price can plummet further with 6.00 and lower in sight. But I think the upside is back to 18-20 area. So there is about a potential 20% risk for a potential 80% reward in my estimation.
Not completely convinced, and would like to see some further evidence that DDD is fundamentally sound. I guess that's where Q2 earnings comes in, but we won't see that until August. 
What do you think? Is it worth a stab to buy DDD if it stalls around 10?