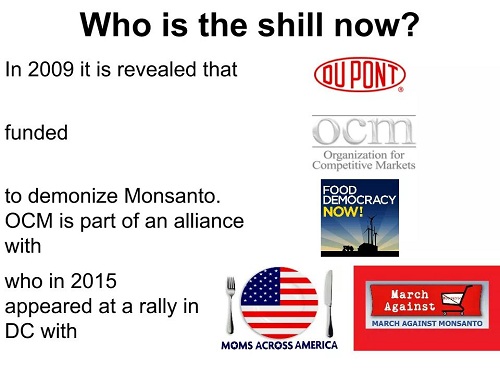 According to anonymous sources, DuPont (DD) is looking to make a bid for Syngenta (SYT). They are also looking to purchase the seed development part of Dow Chemical (DOW). That's pretty strange unless you know some of the backstory Syngenta recently backed out of a similar deal with Monsanto (MON). 
But Dow and Syngenta are sleeping with the enemy and might not even know it. DuPont has been contributing funds to a group called the "Organization For Competitive Markets", which takes those funds and uses them to create anti-GMO advertising that gets distributed across social media like Facebook (FB) and Twitter (TWTR). Agtivism, the hosting company that manages some of the businesses affiliated with the OCM, is a major source of this advertising.
That's awfully strange activity considering that DuPont has it's own seed business, called "Dupont Pioneer". Here is the official company website: http://www.dupont.com/corporate-functions/our-company/businesses/pioneer.html
Documents provided by bioscientists working with the Freedom of Information Act were able to show that DuPont made those donations mentioned above, and then showed up in person at anti-GMO demonstrations against Monsanto. That's pretty screwed up in my opinion. Now we are able to see what their financial motivation was for doing all this.