Summary
This series covers several stocks whereby something specific in the Q2 earnings release or conference call caught my attention.
This article highlights General Motors. Despite a blowout quarterly earnings, outstanding cash flow, and reaffirmed guidance, the stock price tanked.
Does this make sense? I say, "No." General Motors shares are woefully undervalued.
Over time, prices follow earnings and cash flow. Unless one believes GM earnings and cash are about to collapse, the disconnect has become enormous.
Introduction
I'm writing you today with the fifth installment of a series that highlights specific Q2 post-earnings observations that caught my attention as being especially relevant to investors.
Identified companies and stocks cut a wide swath through the market. I own securities of each of these companies for my personal account.
The list includes:
Links to past articles can be found here.
Up for review today is General Motors.
"What the Hell is Going On Out Here?"
YouTube captures an old video of Vince Lombardi, the late, great head coach of Green Bay Packers: frustrated with on-field football action, he shouts the subject header. Here's the clip:
Recent GM price action likely has many investors shouting the same thing.
General Motors Sells Cars, Investors Sell Shares
Folks, the July 23, 2015 2Q earnings release looked pretty darn good to this commentator. Upon news of the report, GM shares raced ahead nearly 8% before falling back; settling the session up at $31.50. Prior to earnings, the stock had been on the decline, falling from March highs above $38 to July lows ~$31. Shares had been locked within its own bear market. Did a buoyant second quarter report breathe new life into the stock?
It did not.
Last week, GM common settled at $29.60, falling some 6% since the day it reported blowout earnings.
GM: 6-month Price and Volume (a sorry sight)
(click to enlarge)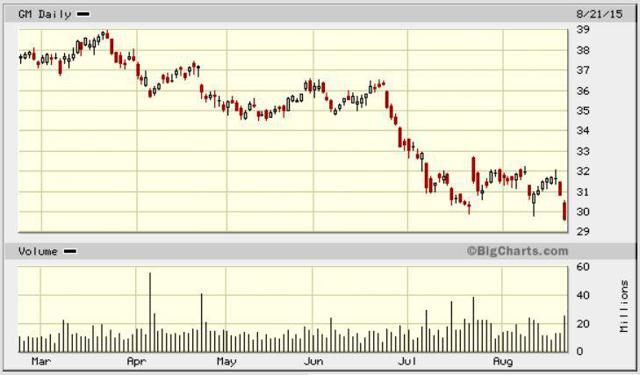 courtesy of bigcharts.marketwatch.com
What Was Good About the 2Q Report?
Nearly everything met or beat expectations.
Operating margin, cash flow, EBIT, and return on capital all were up significantly. Company management reaffirmed the 2015 outlook.
Here's a summary table:
(click to enlarge)

Second quarter North American EBIT margin reached 10.5%. Last year, CEO Mary Barra established a sustainable N.A. EBIT margin target greater than 10%. GM's trailing-twelve-month North American EBIT margin was a record 9.4%.
In the first half of 2015, the GM-China joint venture sold 1.7 million vehicles, a new record. GM China 2015 2Q capacity utilization was 94.3%.
North America auto volumes were up 3.8%.
European operations, long a loser, broke even.
Both GM Automotive and GM Financial garnered investment-grade credit ratings.
Automotive balance sheet liquidity was $34.9 billion: a tidy sum.
Management added second-half EBIT would be stronger than the first half of 2015.
Everything wasn't roses, but any bad news sure appeared priced into the stock even BEFORE earnings.
True, the DoJ ignition-switch penalties have not been settled; however, GM can handle the fine financially. To date, the courts have ruled the "New GM" may retain its bankruptcy protection.
Forex headwinds hurt top-line results, but this was mitigated as GM China operations are conducted within a China-based joint venture, deadening the bottom-line impact.
Reading the Tea Leaves
GM stock was already in full-on bear market mode even before the recent market sell-off. Should not risks be even more baked into the stock price now? I struggle to see how the shares are now worth 6% less than 2Q results were announced.
Major risks aren't new:
Ongoing forex risk, especially the JPY/USD pair, hindering competition with Japanese automakers;
The economic slowdown in China;
Regulatory risk, including the pending DoJ penalty and associated additional fallout; and
Peak-cycle U.S. automotive sales risk, despite little hard evidence to support theses fears
However, positive tailwinds haven't changed much, either:
Cash flows are strong and growing. General Motors generates significantly more operating cash than net income. Free cash flow is on the upswing, too.
U.S. retail sales remains resilient and profitable. July sales were robust.
Despite the industry slowdown in China, the Company appears well-positioned to avoid undue margin pressure.
Even a slight improvement in the EU economy should permit GM Europe to enjoy at least sustainable breakeven performance.
Valuation and Dividend Yield Offer Asymmetric Risk/Reward
General Motors stock was in its own bear market even before the most recent overall market sell-off. Nonetheless, I believe significant go-forward share price deterioration is unlikely without corresponding deterioration in Company operations and earnings. The stock appears woefully undervalued.
GM North America appears healthy. GM China is slowing, but GM Europe is improving. GM Latin America hardly moves the needle.
Current 2015 Street consensus EPS is ~$4.50. Next year, earnings estimates range between $4.70 and $5.20 per share.
Applying a 10.8x P/E (the "new GM" average price-to-earnings ratio), on this years' $4.50 EPS suggests a $49 per share fair value target.
Blending 2015/2016 operating cash flow estimates and the historic 5.3x price-to-cash flow multiple suggests a $44 stock.
The following F.A.S.T. graphs illustrate the situation. First, historic price and earnings:
(click to enlarge)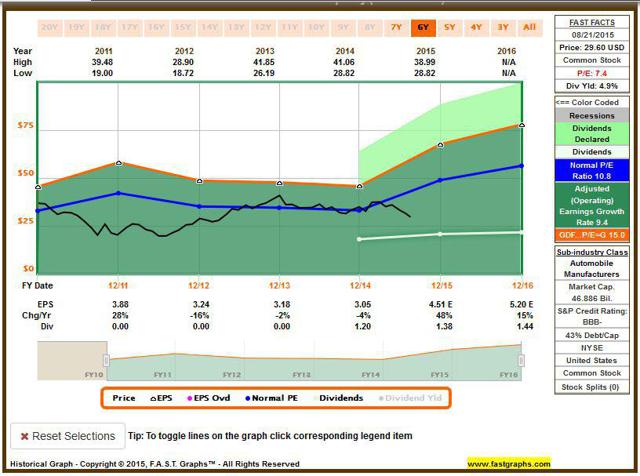 Next, historic price and operating cash flow:
(click to enlarge)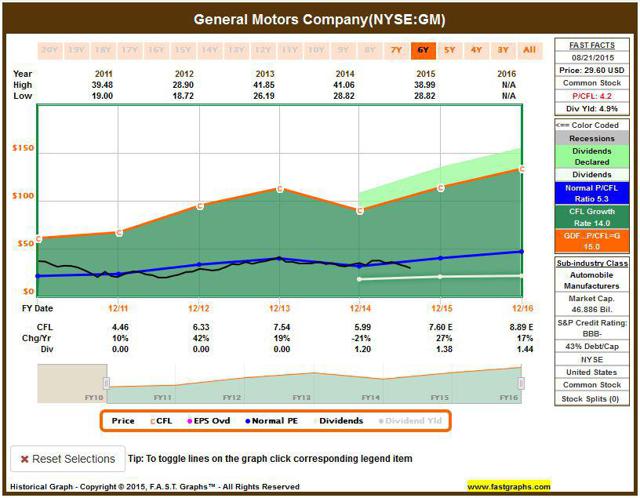 courtesy of fastgraphs.com
Yield support is another positive. The $1.44 current annualized dividend offers a 4.8% yield. I see a low likelihood of a dividend cut.
First, the Company just raised the payout with the June payment. Directors would be loathe to raise the dividend, just to turn around and lower it soon thereafter.
Second, cash dividend payments as a function of automotive free cash flow is only about 33%.
Catching a GM $28.80 bid offers a fat 5% dividend yield. That's just shouting distance from the recent $29.80 close.
Closing Remarks
Despite abysmal near-term price action, investors know that over time, prices follow earnings and cash flow. General Motors is generating increasing EPS and OCF. Historic P/E and CF multiples of 10.8x and 5.3x are reasonable for an automotive stock. Eventually, the investment community will reward patient GM stockholders.
In March, it appeared the shares were turning the corner; a fine 2Q earnings report added fuel to the investment thesis. However, China worries, forex, and general negative sentiment have dealt GM shares another setback.
Nevertheless, a safe dividend yielding nearly 5% makes the wait easier.
For next time, and last on the list: Royal Dutch Shell.
Please do you own careful due diligence before making any investment. This article is for information only, and is not a recommendation to buy or sell any stock. Good luck with all your 2015 investments.
More