HCP is going to release their earnings before the opening bell tomorrow, and this options strategy would be really risky. First of all, the stock dropped more than 24% after the annual earnings call in February. Second, the stock isn't so volatile after the quarter earnings - after Q3'15 earnings call it dropped 1.5%, after Q1'16 it also went down slightly less than 5%. [HCP is a Real Estate Investment Trust, invests primarily in real estate serving the United States healthcare industry].
Analysts are very cautious about this stock - 13 hold recommendations, 3 underperform and just 2 buy. Sometimes when analysts can't define whether the stock will go up or down, it means that there is a high level of uncertainty. Therefore, just one announcement could send the stock to the sky or under the ground. Analysts forecast a small revenue and EPS growth this quarter:
Revenue:

EPS:

Source: Financial Times
HCP's options chain looks suspicious - lots of open interest at ATM prices:

Source: Yahoo Finance
Straddle option would cost you around 5% of the stock price, which isn't very expensive. This Twilio options strategy shows how expensive options could be. So I'd recommend to buy 37.5 straddle and if you want to reduce your costs you can sell OTM call and put options. In this case your initial outlay and P&L table will be the following: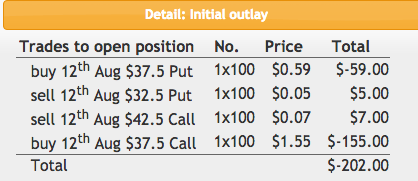 So as you can see from this P&L table, we have the following potential outcomes:
the stock stays within $35.50-$39.50 range - this strategy is unprofitable;
the stock goes beyond the above-mentioned range - we start earning money. Basically if the stock goes up 2.6% or down 5.3% we are in a green zone;
the stock flies more than 15% down or 10% up, we earn the maximum return - around 150% of initial outlay.
Before you are going to buy the straddle, you need to understand that this strategy is really risky - the stock didn't fluctuate a lot after Q1'16 earnings call because this business is highly predictive. If you think so, I'd recommend to sell the strangle and get the small, but almost guaranteed profit.