If you're a growth-oriented investor, Gilead Sciences (NASDAQ:GILD) may no longer be a particularly good fit for your portfolio. This blue-chip biotech, after all, has seen the sales of its top-selling hepatitis C drug Harvoni fall dramatically in the last quarter, and its top line is expected to drop by nearly 7% this year as a direct result.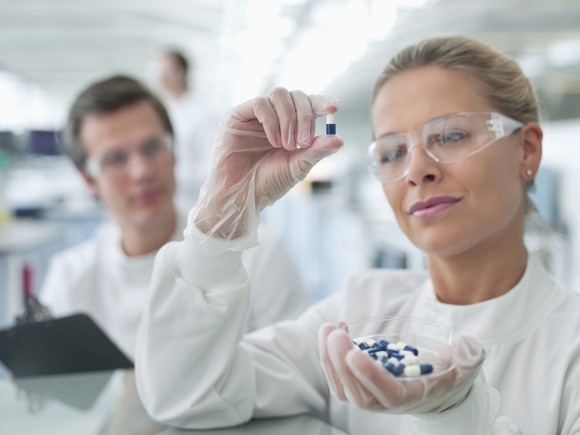 If explosive growth potential was what originally attracted you to Gilead, you may want to consider grabbing shares of Amarin Corp. (NASDAQ:AMRN), Kite Pharma (NASDAQ:KITE), or Novavax (NASDAQ:NVAX) right now. Here's why.
Does Amarin have a blockbuster drug on its hands?
Amarin's consensus 12-month price target implies that this small-cap stock has an upside potential of 114%. While this uber-bullish assessment may sound outlandish at first, a deeper dive suggests that the Street may not be that far off the mark.
Right now, Amarin's shareholders are waiting on pins and needles for Vascepa's interim data readout for its ongoing cardiovascular-outcomes trial that could occur this month. In a nutshell, if this trial shows that this highly refined fish-oil pill significantly reduces the rate of deadly cardiovascular events, then the drug should be able to eventually achieve blockbuster status.
At a minimum, this would lend credence to the notion that Amarin's shares really are trading at a mere 3 times the company's 2017 revenue estimate. The flip side is that if Vascepa flames out in this large cardiovascular-outcomes trial, doctors may be hesitant to continue prescribing it, causing the drug's sales to crater.
Of course, there are some cautionary tales suggesting that omega-3 treatments like Vascepa don't actually improve cardiovascular health, despite their ability to lower bad cholesterol -- which is probably why Amarin's shares haven't taken flight just yet.
Kite should emerge as the CAR-T industry leader
Kite is participating in a handful of conferences this month, where investors are hoping they may reveal a...
More