A country that boasts the largest proven oil field in the world should not be facing such dire food and medicine shortages, not to mention rampant protests and violence in the streets. But that's what happens when far-left, authoritarian socialist regimes threaten to dissolve economic freedom, the rule of law and democracy itself.
As you might have heard, a vote passed in Venezuela on Sunday that could permanently amend the country's constitution for the worse. President Nicolas Maduro is now poised to become the world's next absolute dictator.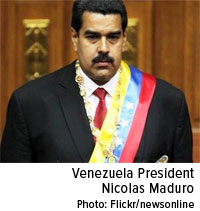 Last Wednesday, the U.S. Treasury Department issued economic sanctions on 13 current and former Venezuela government officials in an effort to encourage Maduro to drop the election, which—let's be honest—was likely rigged in his favor. According to Transparency International, Venezuela is among the most corrupt countries on the planet, ranking 166 out of 176 in 2016.
"We will continue to take strong and swift actions against the architects of authoritarianism in Venezuela, including those who participate in the National Constituent Assembly as a result of today's flawed election," the U.S. State Department said in a statement issued Sunday.
So why am I telling you this? Again, Venezuela sits atop the world's largest proven oil patch. Crude accounts for roughly 95 percent of its export earnings. If Maduro does not relent, the U.S. could very possibly target the country's oil industry next.
As Evercore ISI put it last week, the Treasury Department's decision is "the first step toward comprehensive sectoral sanctions, including crude oil imports into the U.S."
This would be phenomenally disruptive to Venezuela's already fragile economy. Right now, the U.S. is the country's top cash-generating market. Unlike most other markets, the U.S. pays its oil import invoices in full and on time. Venezuela could always boost exports to other existing clients, but the cash would dry up.
To be fair, such a move wouldn't be exactly painless for the U.S. either. Venezuela is currently its third-largest supplier of crude, following Canada and Saudi Arabia. Several large American producers, including Chevron, Halliburton, and Schlumberger, have joint-venture contracts with Petroleos de Venezuela (PDVSA), the South American country's state-run oil company. And a number of oil refineries in the U.S. are...
More