Celanese Corporation CE announced that its board of directors approved a new $1.5 billion share repurchase program. The new share repurchase authorization represents around 11% of the Celanese's outstandingshares. The timing of the repurchases will be partly based on the closing of the recently proposed tow joint venture with Blackstone.
The company is on track with its $500 million share buyback commitment for 2017 and has already deployed $300 million in the first half of 2017. This would exhaust the existing $1 billion repurchase authorization put in place in 2015.
Celanese has outperformed the Zacks categorized Chemicals-Diversified industry over the last three months. The company's shares have moved up 11% over this period, compared with roughly 7.7% gain recorded by the industry.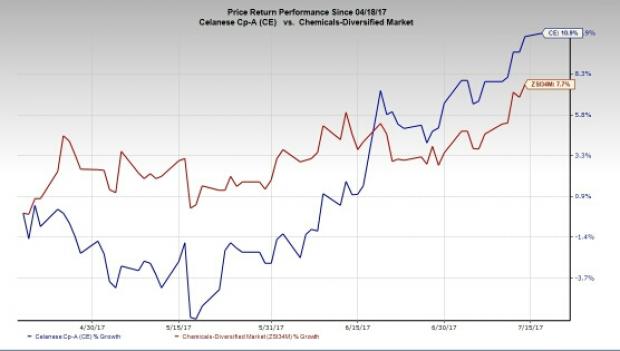 Celanese expects adjusted earnings per share to increase 8–11% in 2017. Advanced Engineered Materials is also expected to continue to grow offsetting the decline in tow earnings. The Acetyl Chain is anticipated to benefit from a volatile raw materials backdrop and the current industry environment is expected to improve profits as the year progresses.
Celanese's strategic measures including cost savings through productivity actions are expected to lend support to its earnings in 2017. The company is also likely to gain from capacity expansion and growth initiatives like acquisitions. Moreover, Celanese remains focused on returning value to shareholders.
Celanese Corporation Price and Consensus
Zacks Rank & OtherStocks to Consider
Celanese currently carries a Zacks Rank #2 (Buy).
Some other top-ranked companies in the basic materials space are The Sherwin-Williams Company SHW, Ternium S.A. TX and Hitachi Chemical Company, Ltd. HCHMY. All three stocks sport a Zacks Rank #1 (Strong Buy). You can see the complete list of today's Zacks Rank #1 stocks here.
Sherwin-Williams has expected long-term earnings growth rate of 11.4%.
Ternium has expected long-term earnings growth rate of 18.4%.
Hitachi Chemical has expected long-term earnings growth rate of 5%.
5 Trades Could Profit "Big-League" from Trump Policies
If the stocks above spark your interest, wait until you look into companies primed to make substantial gains from Washington's changing course.
Today Zacks reveals 5 tickers that could benefit from new trends like streamlined drug approvals, tariffs, lower taxes, higher interest rates, and spending surges in defense and infrastructure. See these buy recommendations now >>
Want the latest recommendations from Zacks Investment Research? Today, you can download 7 Best Stocks for the Next 30 Days.
Click to get this free report
Celanese Corporation (CE): Free Stock Analysis Report
Sherwin-Williams Company (The) (SHW): Free Stock Analysis Report
Ternium S.A. (TX): Free Stock Analysis Report
HITACHI CHEMICL (HCHMY): Free Stock Analysis Report
To read this article on Zacks.com click here.