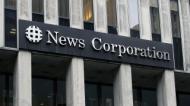 British prosecutors say they are considering corporate charges against Rupert Murdoch's News Corp over phone hacking at the now-defunct News of the World tabloid.
The news comes amid reports that former editor and Murdoch lieutenant Rebekah Brooks is poised to return to the company.
London's Metropolitan Police said on Saturday it had submitted a file to the Crown Prosecution Service last month. Prosecutors confirmed they had "received a full file of evidence for consideration of corporate...
More