2,165.
That's our shorting line on the S&P 500 Futures (/ES) and the significant line below that is the S&Ps 15% line on our Big Chart at 2,127.50 so that's the range we'll be looking for if we're going to have the beginnings of a proper correction.  Anything less than that is just a blip as we consolidate for (and I hate to say it) a move higher.
Of couse, we don't need to go all the way back to 2,127.50 to make money.  Last Thursday, we laid out our shorting lines from our Live Member Chat Room, right in the morning post and they were (and still are):
18,500 is lined up with 2,165 on /ES, 4,650 on /NQ and 1,205 on /TF, we want to see them all below to play a short.  
Then on Friday, I noted we made a profit of $500 per contact at 2,155 so of course we did it again when the levels broke again yesterday.  Learning to make money in the markets is a lot like learning to be a great stage performer – you learn your part, do it well and then learn to consistently repeat your performance over and over again.  Much like most rock bands – no one in the audience is interested in your new stuff – just play the hits please!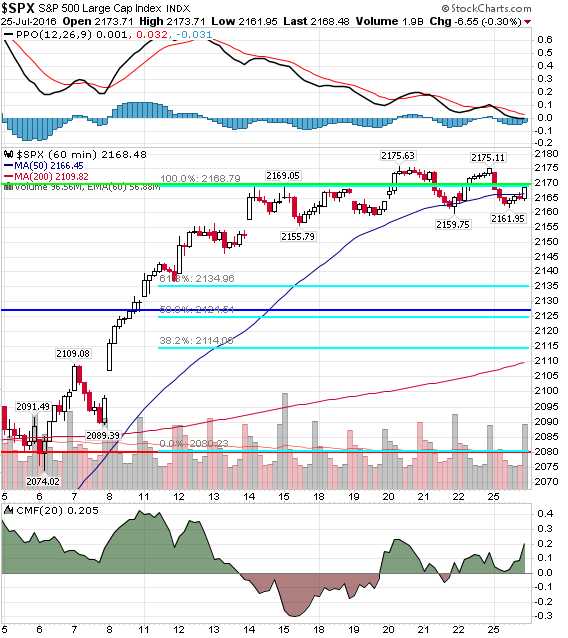 S&P Futures expire in September and sentiment has them trailing the actual index, which finished at 2,168.50, 6.50 above the Futures levels, so keep that 6.5-point difference in mind when we're looking at the S&P chart and talking about the headline levels vs. the Futures.
As you can see from the hourly S&P chart,  yesterday's 13-point dip hardly registers in the bigger picture and we're still costing along the upper end of the 50-hour moving average at the top end of the bullish range.  It's going to take more than a blip like that to scare off the dip buyers – who have been rewarded by the Fed(s) for their aggressive behavior pretty much since 2009!
There's not much to do but watch and wait ahead of our Fed's announcement on Wednesday afternoon and the BOJ on Friday morning and we can expect to drift along near the highs at least until we year from our own Central Bank tomorrow. 
Provided courtesy of Phil's Stock World.