The journey from hubris to humiliation in EM has taken roughly 5 years. As BofAML notes, despite muted asset returns, 2015 has seen the emergence of two big trends: the risk of a bubble in US health care & technology; and the crash in EM/Resources/Commodities. The two trends are best exemplified by the "Map of Hubris & Humiliation" which shows among other things that the market cap of MSCI Russia is currently equivalent to Intel's, while the market cap of Netflix equals that of MSCI Chile.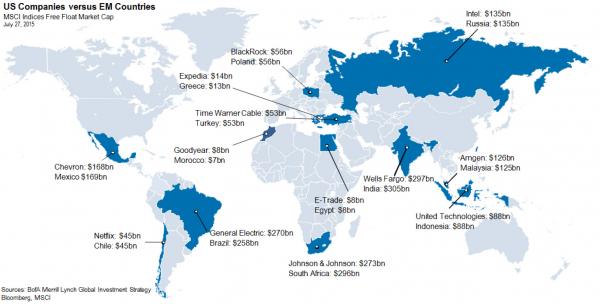 Back in late 2010, when Sepp Blatter announced that Russia & Qatar would follow Brazil as hosts of the FIFA World Cup, both China & India were on course for >10% GDP growth, EM spreads were significantly lower, and the market cap of EM ($3.7 trillion on December 1st 2010) was twice the market cap of US banks, and exceeded the combined market cap of US tech & health care.
Today, the market cap of EM equities is the same, while the combined market cap of US tech, health care and banks is over $10 trillion.
Source: BofAML