Shares of Snap Inc SNAP fell 1.1% yesterday to close at $16.99, a notch below its IPO price, which is a first. Shares have lost 31% of their value since the commencing trading on Mar 2, 2017.
Snap's stock has been on a topsy-turvy ride since its spectacular IPO debut. The stock surged almost 44% from its IPO price and reached an all-time high of $29.44 the very next day. However, post that, it has lost some shine. For the past few weeks, shares have hovered around the $17–$18 level.
Investors remain wary of Snap's slowing user base, decelerating revenue growth rates and no profitability (six years into existence). More importantly, stiff competition from Facebook's FB Instagram poses a major threat. Instagram has been copying Snapchat's features for quite some time now.
Interestingly, analysts have related the slowdown in Snapchat's user growth to the popularity of Instagram Stories. According to analysts, this is a brilliant case of a copycat improvising better than the original. Facebook has not only introduced Snapchat-inspired features to its platform, but also made it more popular than Snapchat. Earlier, Tech Crunch had pointed out that Snapchat's focus on a single demography (millenials) as well as absence of a proper international expansion strategy has cost it dearly.
Recently, Instagram Stories – a blatant rip off of a Snapchat feature – was reported to have acquired 250 million users, with 50 million being added only in the last two months.
On the other hand, per Snapchat's last quarterly results, total daily active users (DAUs) stand at just 166 million. Notably, it added only 5 million DAUs in fourth-quarter 2016 as well as last quarter, which happens to be the lowest since third-quarter 2014. User growth holds the key to attracting advertisers, which is the primary source of revenues for Snap. Hence, a slowdown in user base growth rate may look unattractive to advertisers.
Snap Inc. Price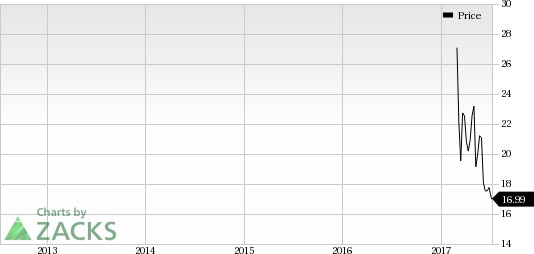 Snap is trying hard to win over both users and investors. It has been hawk-eyed on boosting the TV-style content on its platform. The company has inked deals with Walt Disney's ABC Network, Comcast's NBC Universal, Vice Media, BBC and more. Recently, it inked a $100 million content deal with Time Warner Inc to create 10 shows for its platform across various genres.
Moreover, in order to woo advertisers, it acquired Placed, a startup specializing in measuring success of digital ad campaigns. It has also launched a self-serving ad platform.
Snap recently added quite a few features to its Snapchat platform. The company unveiled Snap Map, its latest feature that will help users find friends by sharing their location on a map. This could help in selling "location-based advertising."
It added a new linking feature called Paperclip, which allows users to add web links to their snaps. Snapchat also unveiled other new "creative tools" to upgrade snaps, such as backdrops for adding illustrated backgrounds to photos and voice filters for altering voice without an animated lens.
Snapchat has been looking to develop newer revenue avenues. Chargeable custom geofilters could develop into one such strong revenue stream.
A few days back, the company updated its "On-demand Geofilter" feature. Users can now create their own custom geofilters inside the app. They can create the filters (which can cover an event/entire block for an hour or up to ninety days) and submit the same for confirmation about payments and details. The starting price for customized geofilter is $5.99.
Zacks Rank & Share Price Movement
At present, Snap carries a Zacks Rank #4 (Sell). Since Mar 2, the company's shares have declined 30.6% against the Zacks categorized Internet - Software industry's gain of 8.7%.

Stocks to Consider
Better-ranked stocks in the broader tech space include Cypress Semiconductor Corp. CY and Marvell Technology Group Ltd. MRVL, both sporting a Zacks Rank #1. You can see the complete list of today's Zacks #1 Rank (Strong Buy) stocks here.
Cypress and Marvell have delivered average positive earnings surprise of 83.30% and 86.70%, respectively, in the trailing four quarters.
More Stock News: 8 Companies Verge on Apple-Like Run
Did you miss Apple's 9X stock explosion after they launched their iPhone in 2007? Now 2017 looks to be a pivotal year to get in on another emerging technology expected to rock the market. Demand could soar from almost nothing to $42 billion by 2025. Reports suggest it could save 10 million lives per decade which could in turn save $200 billion in U.S. healthcare costs.
A bonus Zacks Special Report names this breakthrough and the 8 best stocks to exploit it. Like Apple in 2007, these companies are already strong and coiling for potential mega-gains. Click to see them right now >>
Want the latest recommendations from Zacks Investment Research? Today, you can download 7 Best Stocks for the Next 30 Days.
Click to get this free report
Facebook, Inc. (FB): Free Stock Analysis Report
Snap Inc. (SNAP): Free Stock Analysis Report
Marvell Technology Group Ltd. (MRVL): Free Stock Analysis Report
Cypress Semiconductor Corporation (CY): Free Stock Analysis Report
To read this article on Zacks.com click here.
Zacks Investment Research